This past Saturday, there was an event here in Los Angeles called TACOLANDIA. Yes — that's right — all tacos, all day (although actually just 3:00 – 7:00 pm) — all you can eat.
In short. It was good. It was crazy good. Some tacos were better than others, but of the 25 or so that I had, only one — ONE was downright bad. I also made a rookie move and didn't thoroughly verify which salsa was "the spicy one" at an early stop, so had to go running to the milk sample stands as my eyes watered and my ears started to hurt. No lie — it was so spicy, my EARS hurt. I am pretty sure the word "habanero" came after "Mango" but I didn't notice until taking a huge bite.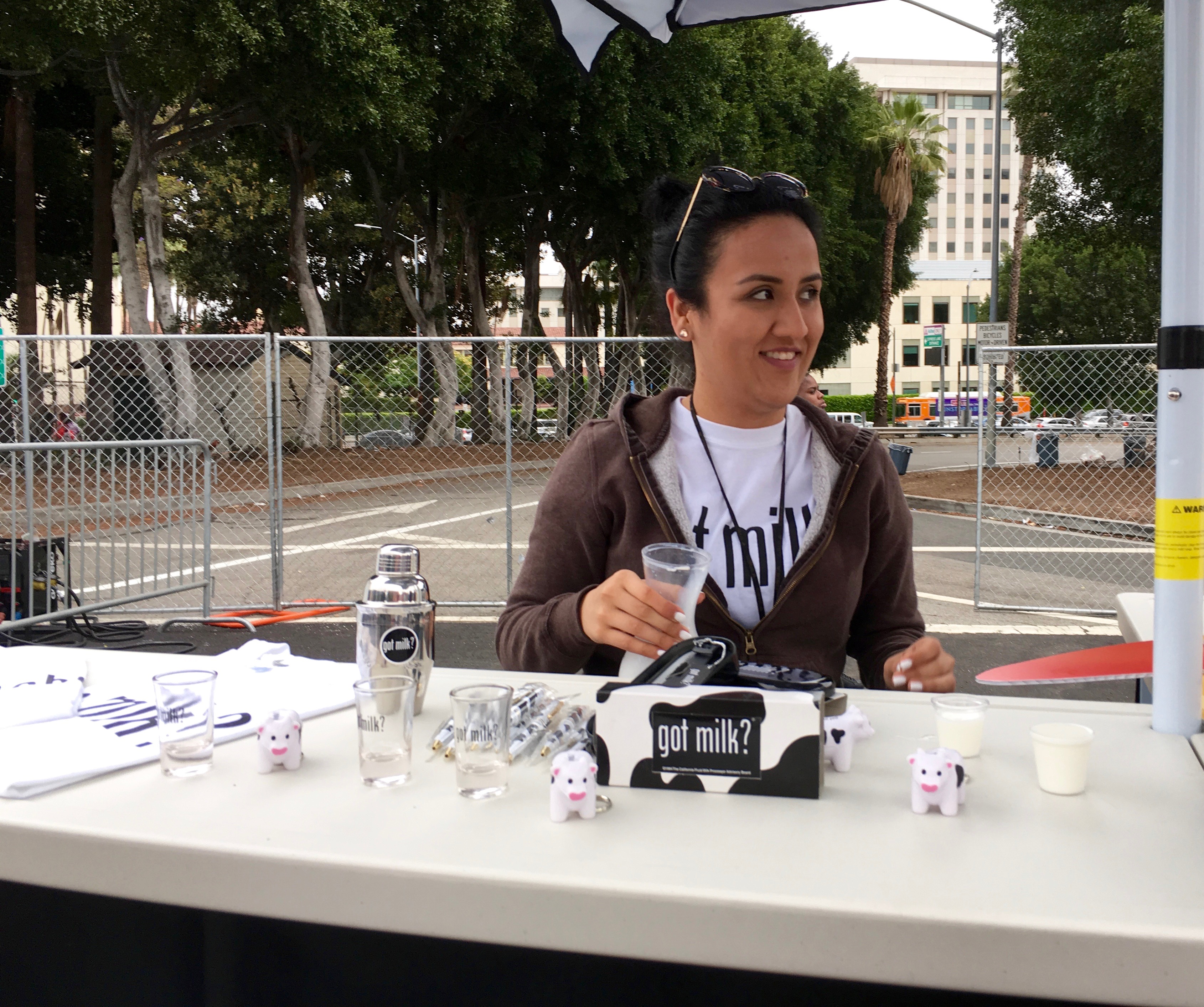 The milk was truly helpful, but didn't 100% do the trick, so luckily Jarritos was on hand giving away full-sized bottles of soda. I grabbed the sugariest one I could (guava) and chugged it. That restored peace to my tongue and gums, but unfortunately, was a tad filling. Dammit. I was only about six tacos in and I was already feeling full. But I soldiered on and managed to down almost 20 more, plus some birria.
S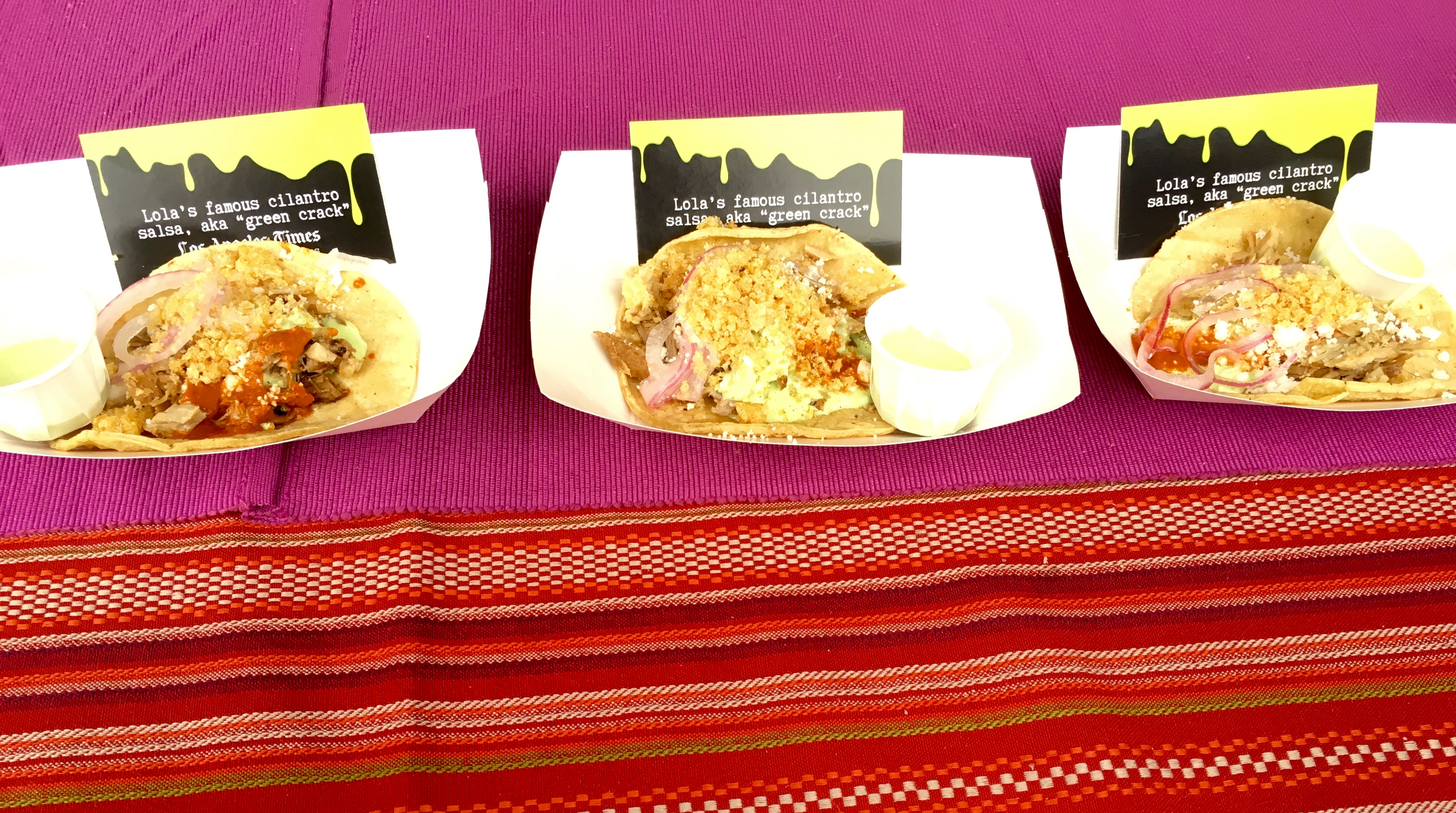 o what about the day made me so happy (besides the tacos…I mean, Duh! Right?)
I was happy because I leapt wayyy outside my comfort zone and went…alone.
Upon discovering my partner couldn't come, with too short of notice to ask anyone else to buy a ticket, I just sucked it up and decided to go by myself. And you know what? It was great! The lines were long and I managed to find nice people to talk to in all of them. That was perfect, as each person had a different "must go!" to recommend. (My personal favorite was the pork belly taco from RBTA X Monkey Bar, but the lobster taco from Slapfish and the insane fried cheese & filet mignon at Puesto simply rocked!)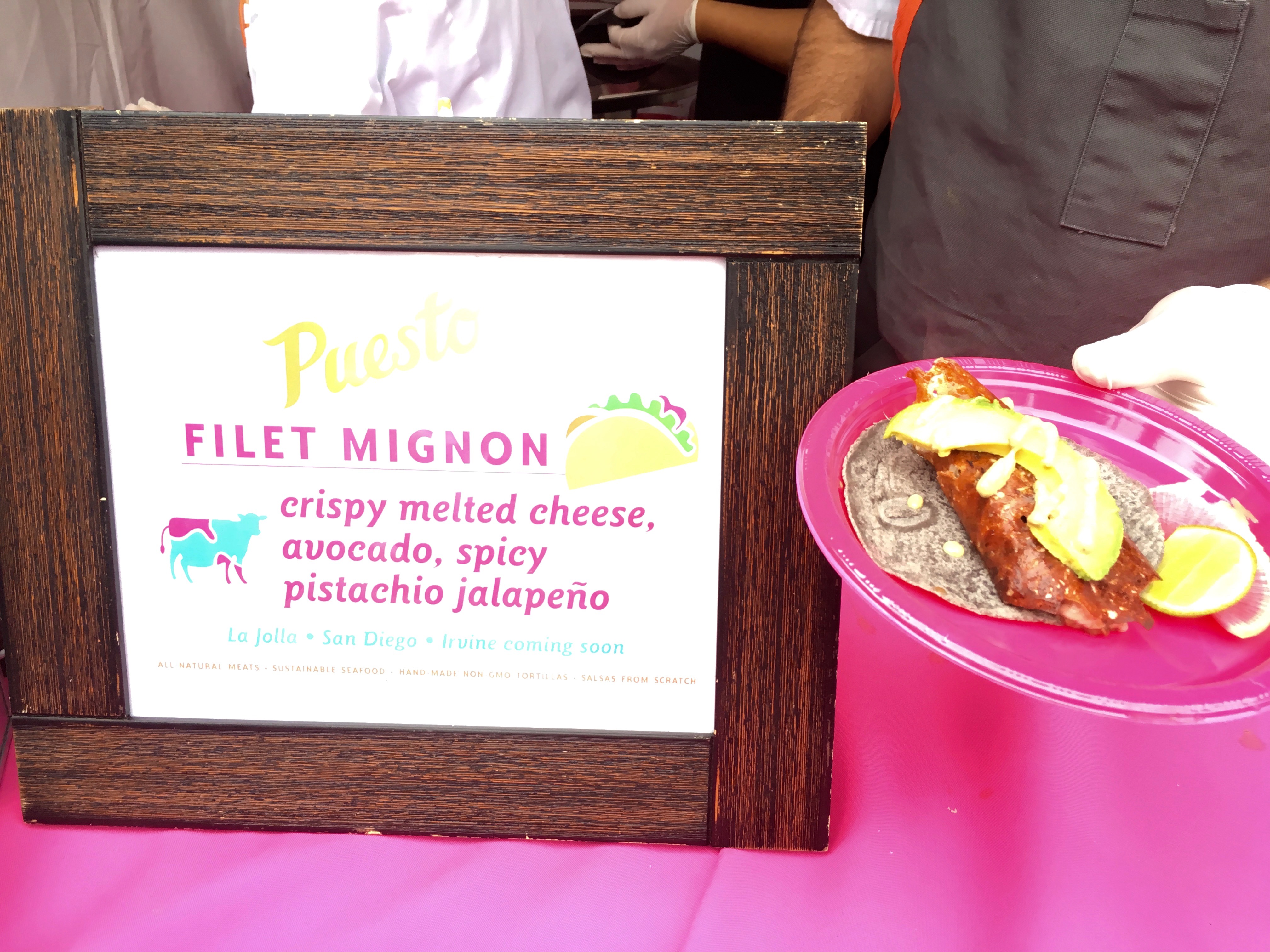 Frankly my dear, I have come to realize that when a woman reaches a certain age, she just has no damns left to give. This is why you may catch sight of me at a movie in sweats, or hiking with legs about two days past "maybe I should shave…"
In my youth, I would've been convinced everyone was looking at me, wondering why I was there by myself. Annoyed that I joined their conversation. Now — I hope you're happy to have me here, because I am happy to be here, and will just go right on being so! Can you imagine missing something as awesome as a lobster taco because you are worried about what strangers might think? Hell, I'm so over that…I took two!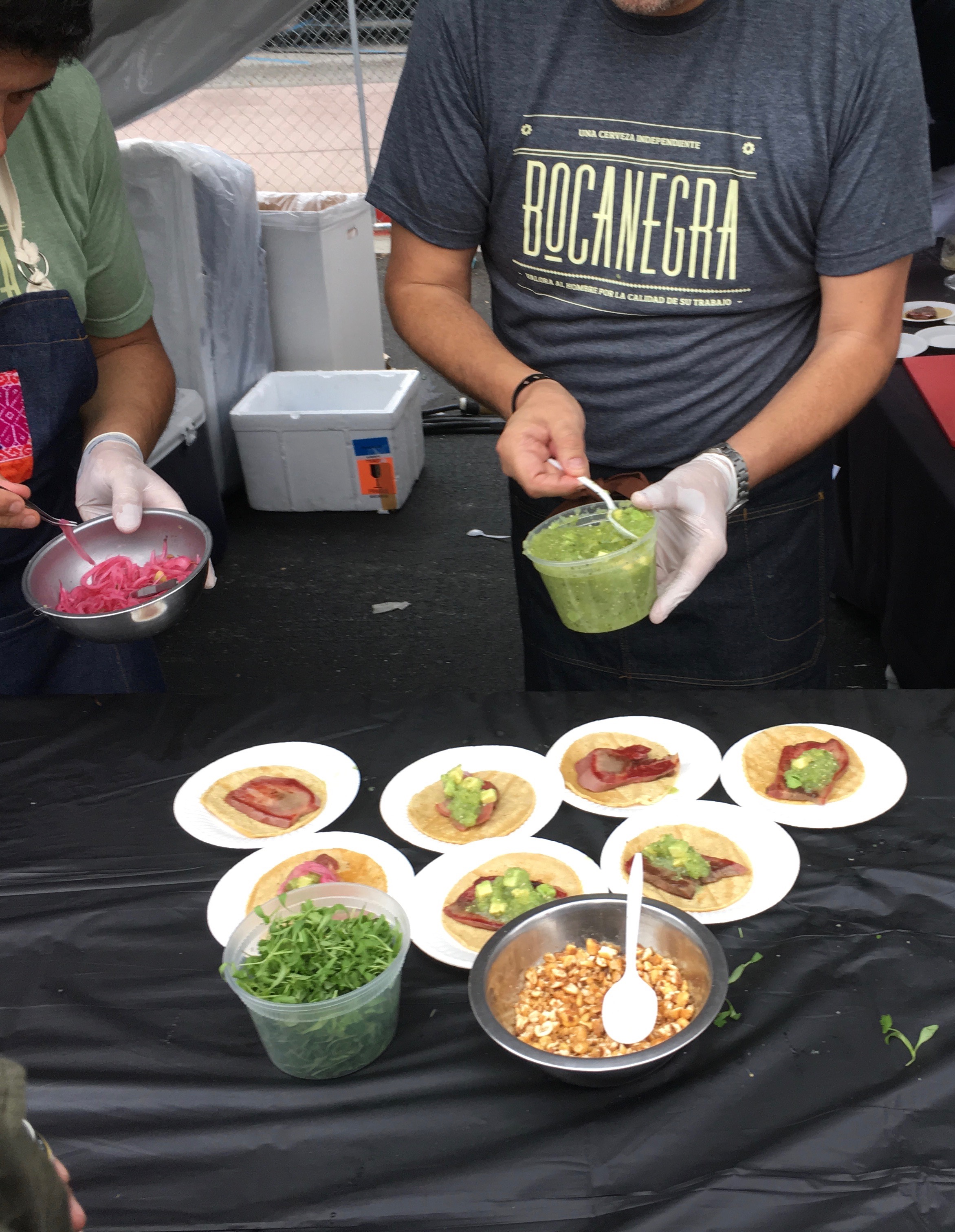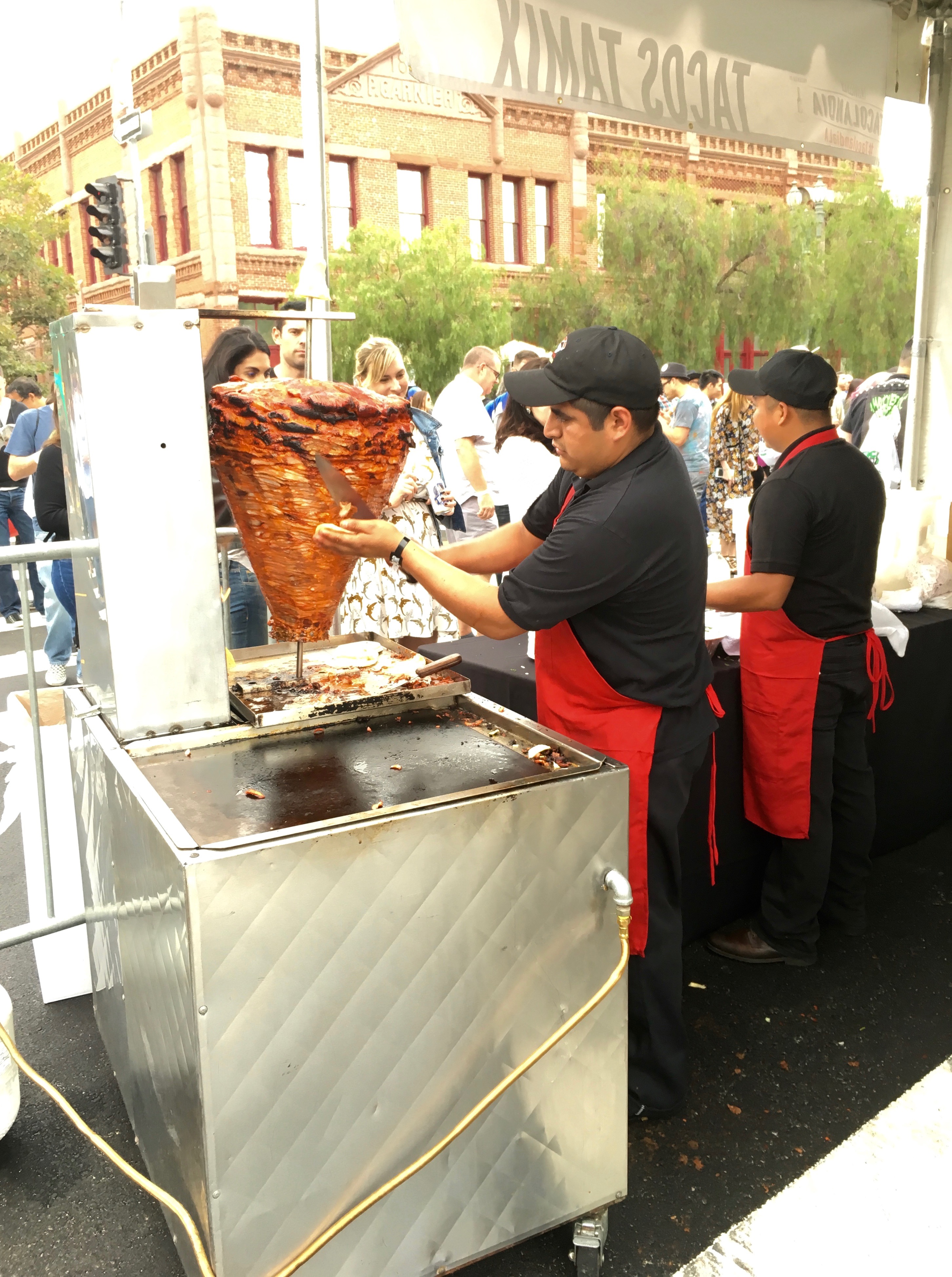 If you are in LA this time next year, or if a Tacolandia comes to your town, don't let anything silly like having no one to go with keep you away. Go! You might just run into a happy blogger you know!
(And if you organize an event like Tacolandia, thanks! But you can do better…
It would have been great to have the sign of what each booth was serving above the booth! It added to the crowdedness of the whole event that people had to walk all the way to the front of the line to see if they wanted what someone was serving. And speaking of lines — stanchions are your friend! Lines could have snaked back and forth in front of each booth instead of crossing the entire roadway and sometimes having to loop around even then, blocking all traffic and creating mass confusion. The tacos were worth the wait, but the wait could've been better managed. Can't wait to see how you do it next year…)