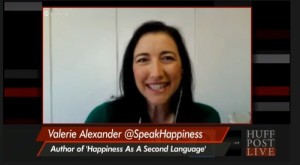 This is so exciting!  I was on HuffPost Live on Monday discussing how to make the morning commute less stressful, and they've posted an article about the interview with a segment of it embedded (my part is the opening 45 seconds).  They invited me to participate based on an article I'd written for them, Don't Drive Yourself Crazy — Drive Yourself Happy!
You can read/watch here, and if you want to watch the whole 15-minute show, the link is at the bottom of that page.  My part of the segment starts at 7:08 and goes through 12:08.
Adding this one to the Press Page now.  Yay!