On August 29th, 2005, a beast named Katrina hit land.
I don't know why, but I was devastated. Sure, I had spent weekends in New Orleans when I was in college, but had no real attachment to the place. Still, I couldn't turn off the news. And it got worse every day. I got incredibly angry that so many who started with so little were left with absolutely nothing. I made phone calls, I sent checks, but it all felt pointless. Honestly…I couldn't turn it off.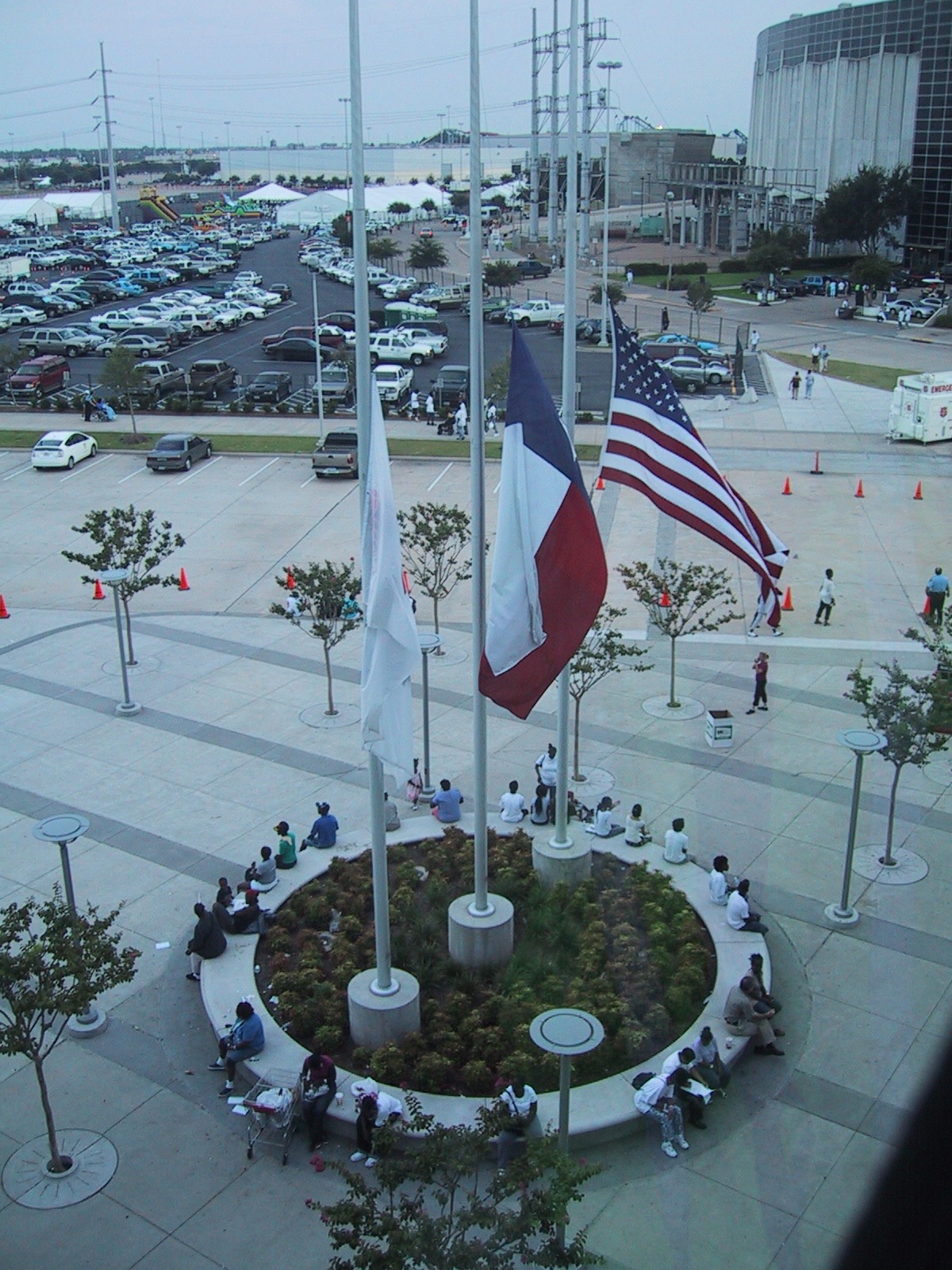 My brother-in-law at the time was on the FEMA Emergency Response team and he and my sister were down in the Astrodome, him working and her as a volunteer. A week after the storm, when she called to wish me Happy Birthday, I asked what it was like down there.
"It's a clusterf#*k," she said, "FEMA is giving out debit cards to put cash in people's hands and let them get out on their own as quickly as possible, but to do that, we have to process everyone and the servers keep going down."
I asked how the current residents of the Astrodome were reacting to that. She said they were wonderful. No one got mad or lost their temper, no matter how slow, but FEMA needed to be able to process them faster. I asked if having more people would help and she said she didn't know. Maybe. That was all I needed to hear.
I arrived in Houston on Saturday and my sister picked me up at the airport. On the way in, I noticed that every flag we passed was at half-mast — a sight I hadn't seen in Los Angeles, and all of the electronic freeway signs were giving information about the relief efforts: who to call, which centers to go to, job and housing tips.
We arrived at the site and I could not believe my eyes. For those who have never been to Reliant Park, this complex is huge. In addition to the then-defunct Astrodome, there is the enormous Reliant Stadium (home of the Houston Texans), the Reliant Center (a 700,000 square foot convention center) and the Reliant Arena (another 350,000 square feet).
On less than 24 hours notice, the people of Houston turned this place into an entire metropolis, complete with a name (Astro City) and it's own zip code.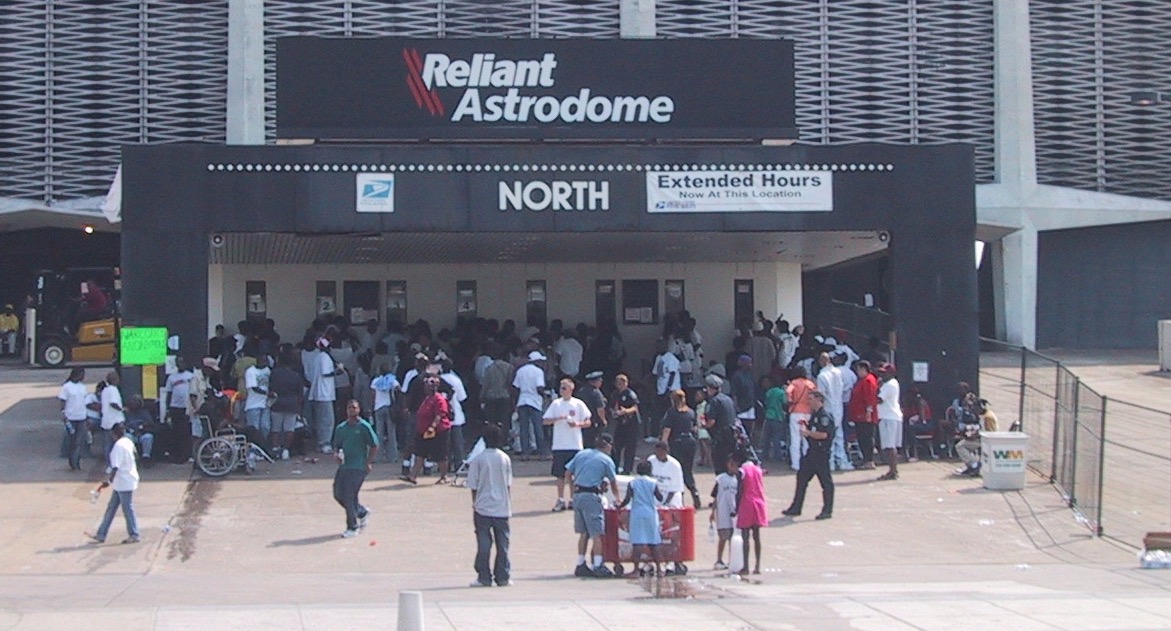 (residents line up at the Astro City post office)
All but the Stadium was in use as housing, administration, a donation center, family location services, commissary, day care, YMCA, hospital, post office or any of a dozen other uses. They set up both elementary and high schools on the premises. Outside were pavilions and tents housing banks, insurance companies, rec centers. On Sunday, several of these were turned into churches and believe me, those churches were packed! No matter what they lost, people had not lost their faith.
The original number of post-Katrina residents was 20,000, but by the time I arrived, they were down to 8,000. The place was still packed with people. I can't imagine what it was like with two-and-a-half times the population I saw.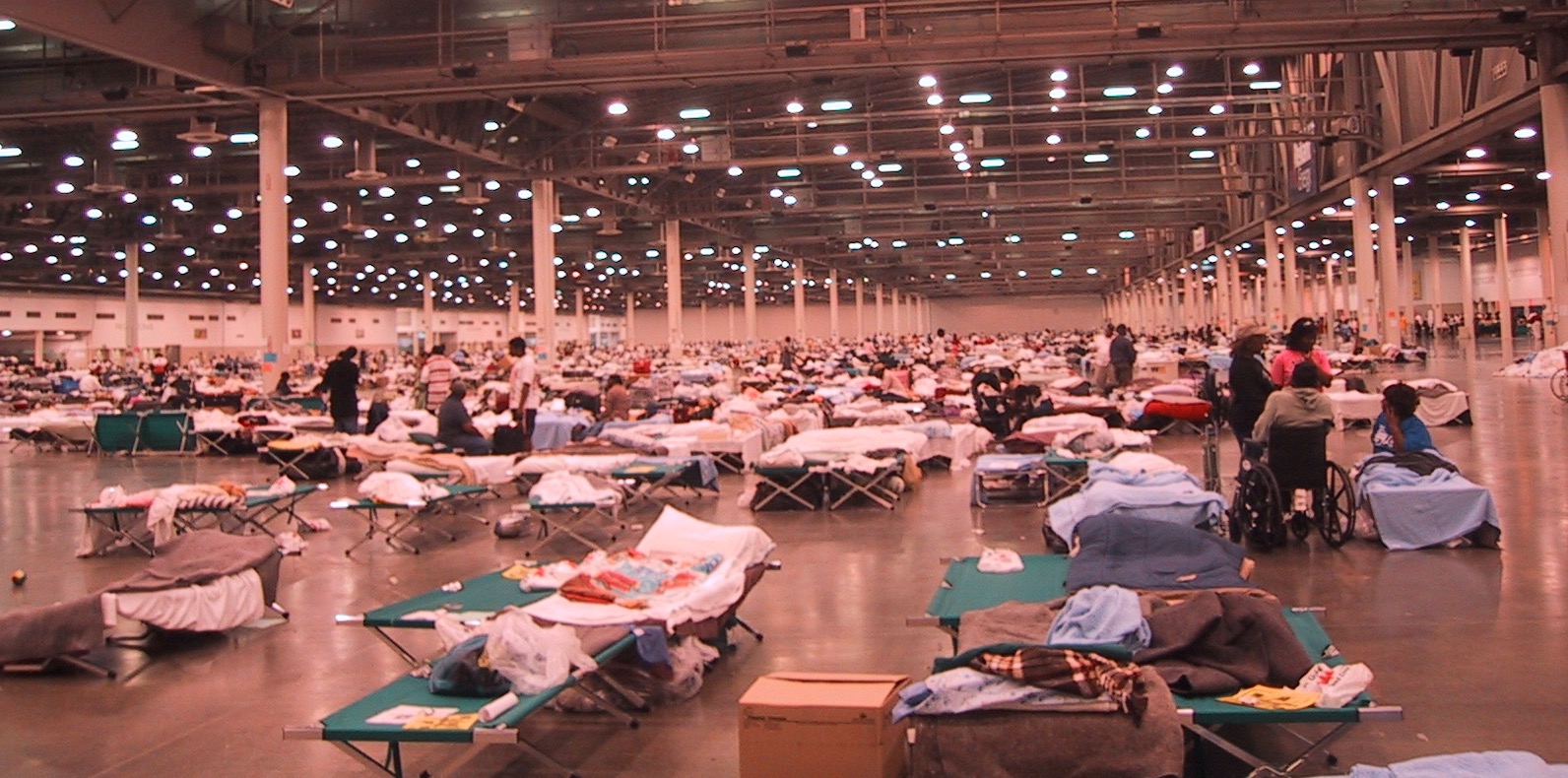 The sight inside the Reliant Center was breathtaking. Cots on the floor of the convention hall as far as the eye could see, massive food service areas offering hot and cold meals throughout the day, cold water and drinks in abundance, televisions, play stations — anything that might make people feel a little less displaced.
Signs looking for missing people were everywhere. People searching for brothers, wives, children, companies asking employees to contact them and let them know they were fine — constant reminders that lives were destroyed and no amount of free soda pop was going to change that.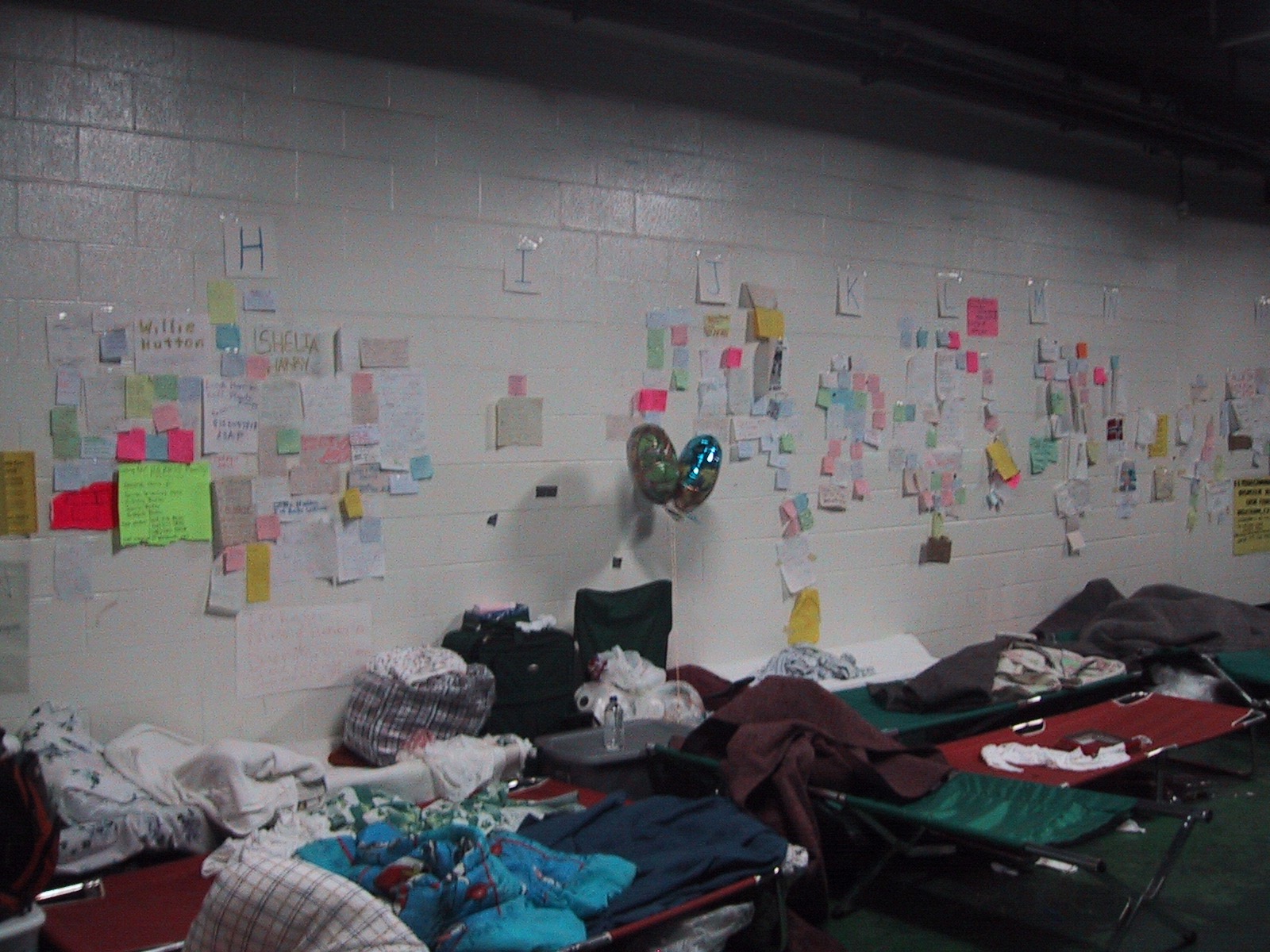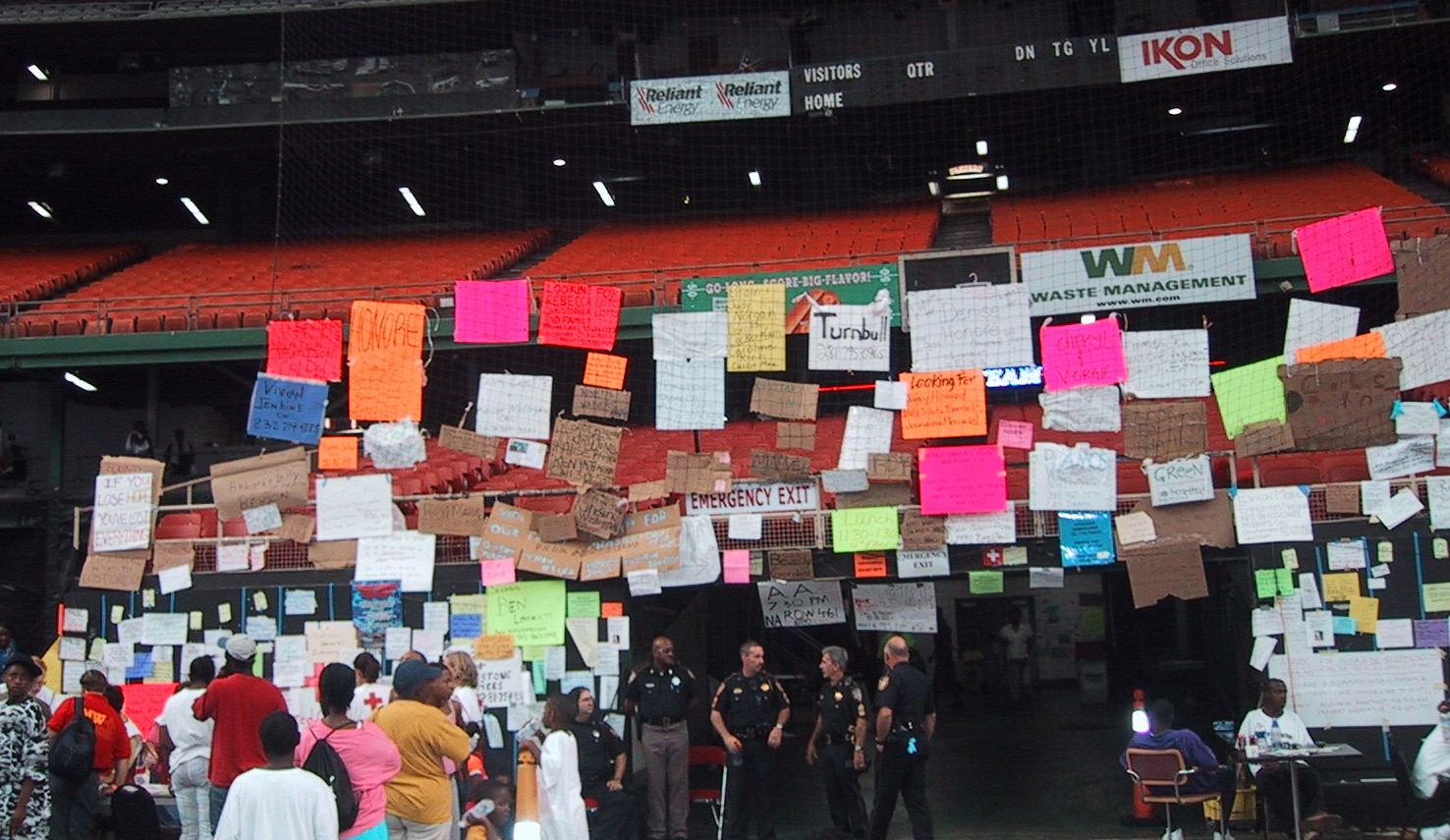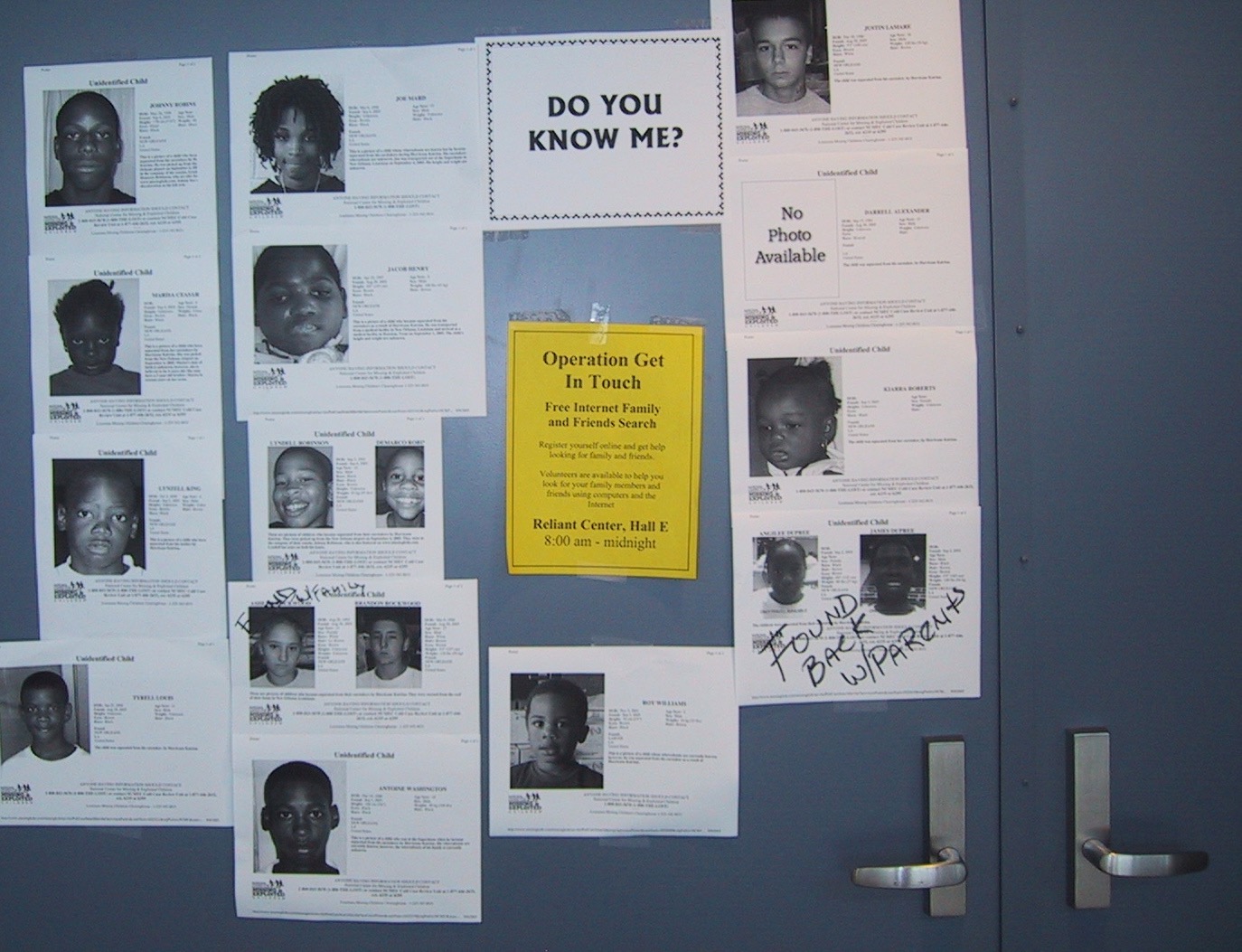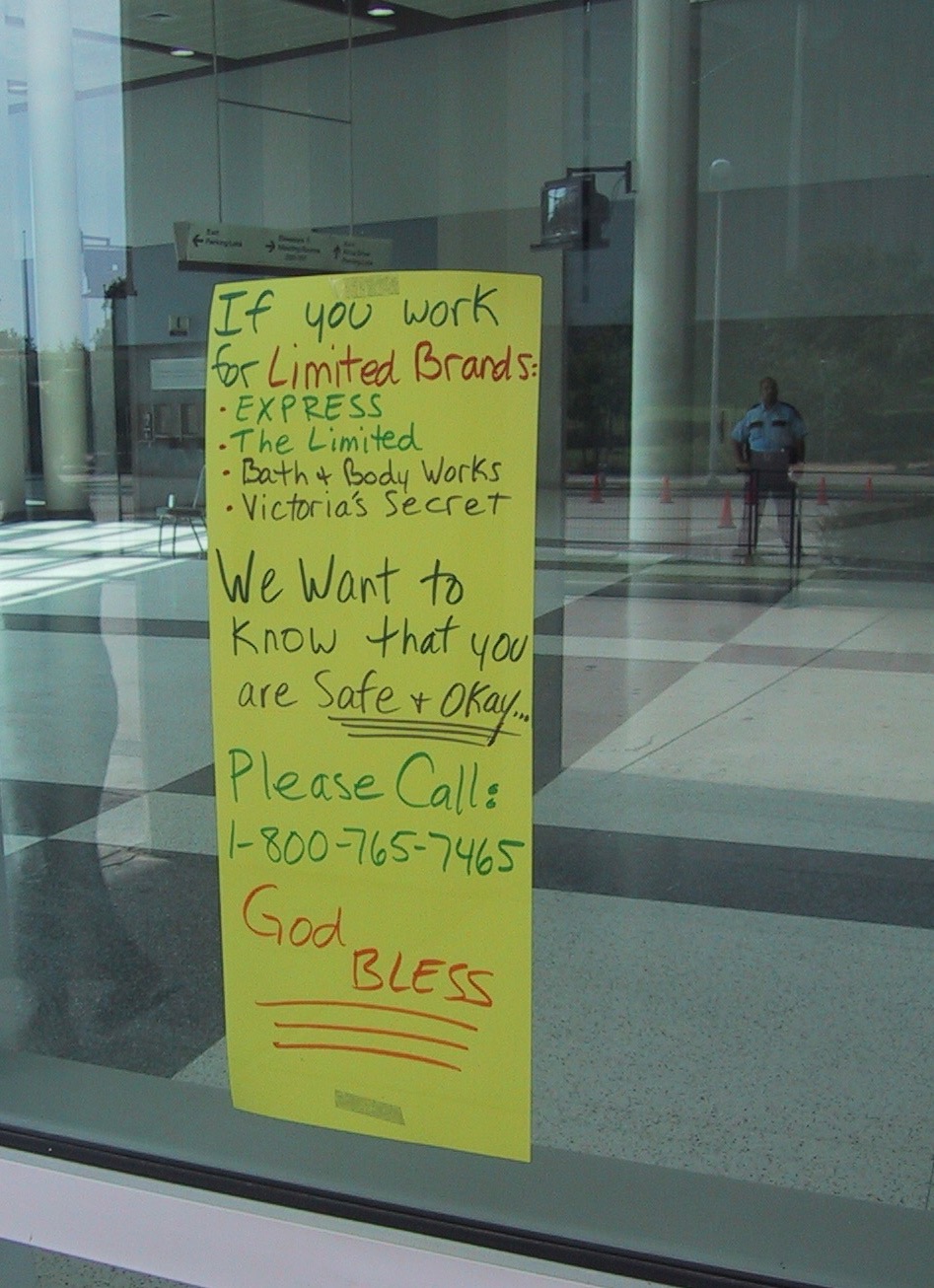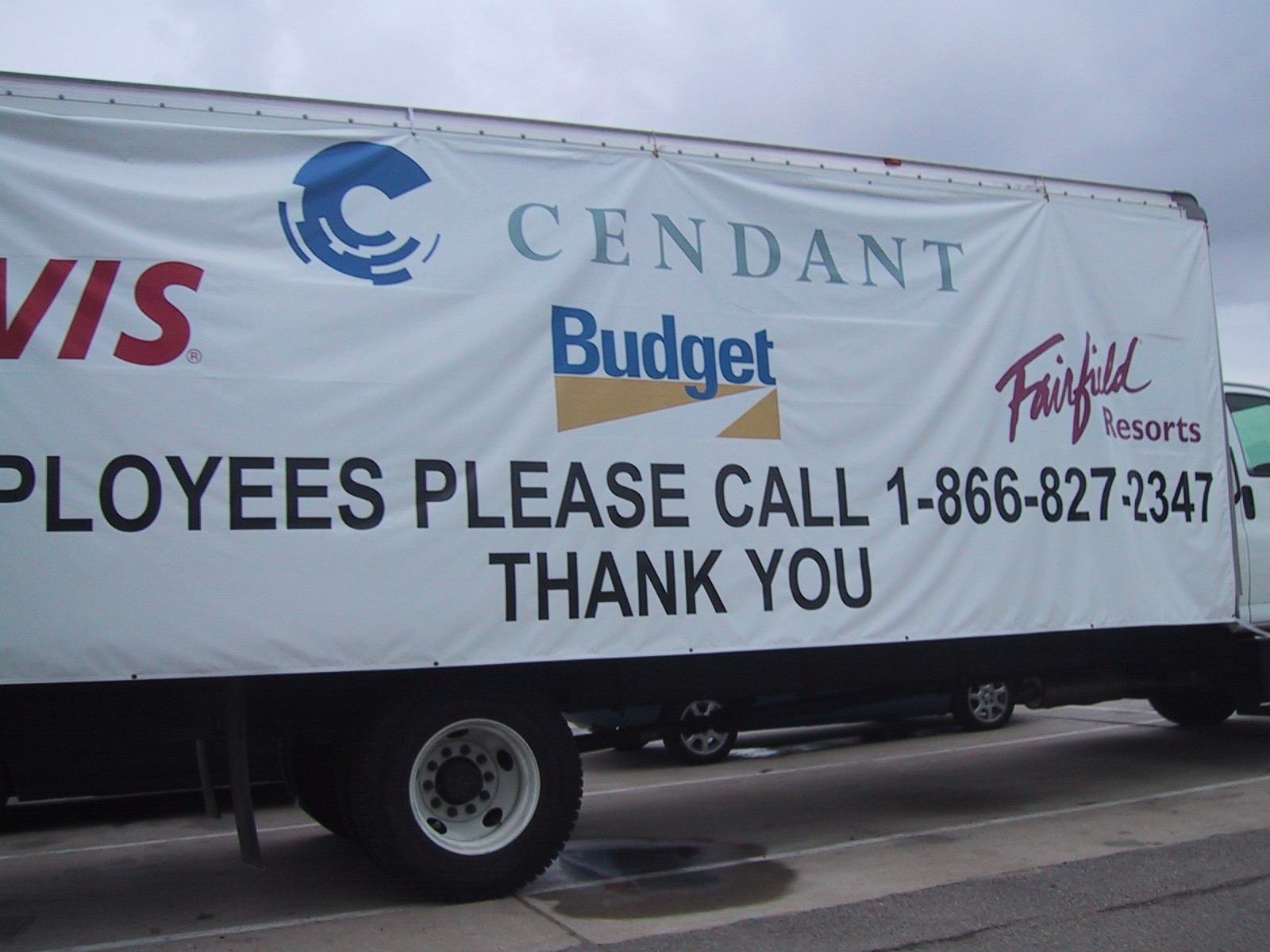 My very first experience at the Reliant Center was arriving at the entry at the same time an elderly man with a cane was leaving, just one of the many displaced New Orleanians. I reached up to hold the door for him, but he insisted on holding it for me, proving even the strongest winds can't wipe out a true gentleman's manners. As I walked through the door, I smiled and thanked him and he replied, "No. Thank you. For being here. You've been wonderful." I know he didn't mean me personally (after all, I just got there), but I probably represented every volunteer he'd dealt with.
The volunteers were truly amazing. Thousands of people from all walks of life came through and did their part. Some groups took over entire areas of operations, like the churches that ran the day care and donation centers, or the Houston Rotary Clubs, with their humanitarian mission and amazing organizational skills. And I don't know why, but I loved the sight of dozens of young men in "Islamic Relief Fund" shirts. Houston showed up. En masse! It didn't matter who you were, what mattered was that people needed help and others were there to provide it.
I spent the day Saturday helping at the FEMA Relief Center, but by that time, almost everyone had been processed, so my sister and I went about providing relief for the workers. Now in truth, I didn't fly all the way to Houston with the intent of going on a Starbucks run, but if that's what it took to keep the relief workers going, many of whom were on their tenth straight day of work without a break, then I was happy to do it.
That night, my brother-in-law got word that he was being deployed to the field and had to spend the next day in training at the FEMA command center, which was miles away. My sister could stay with him, but I couldn't, so they suggested I hang out at the hotel until they got back.
Right. Because that's exactly why I came. To hang out at the hotel. The Best Western was about a mile from Reliant Park, so the next morning, I walked over to see where I could help.
Because residents were moving out so quickly (there were 8,000 just before I arrived on Saturday and by Sunday morning they were down to 5,400), many areas of the complex were being shut down and relocated. Since I'd spent Saturday as a FEMA volunteer, I hadn't gone through the formal volunteer orientation, so my goal on Sunday was to find the Volunteer Center and sign up for whatever was needed. The trouble is, the volunteer center had been moved and no one could tell me where it was.
Finally, two Reliant Park workers gave me directions which turned out to be totally wrong, but off of which I found myself in Incident Control ("IC") the command center for the entire place, offering my services as a volunteer.
My offer was accepted and that's where I worked the rest of the day, which was amazing. Everything happened through IC. It was manned by the heads of every operation there (the Red Cross, the Salvation Army, FEMA, the chief of police, and many others), and managed with crack efficiency and amazing spirit by the Houston Rotarians.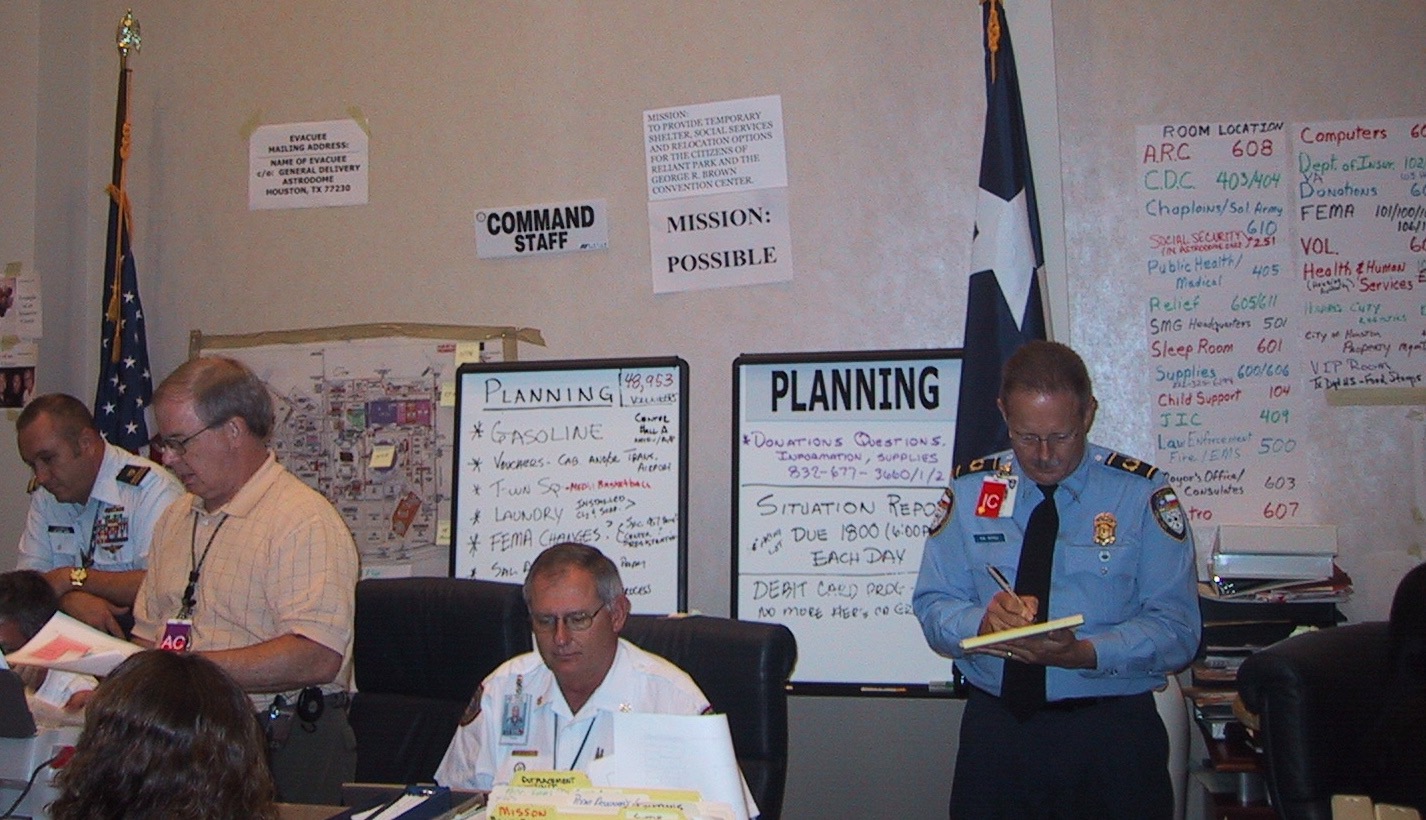 I was also touched by the Mission Statement reminding everyone why we were there and what needed to be done.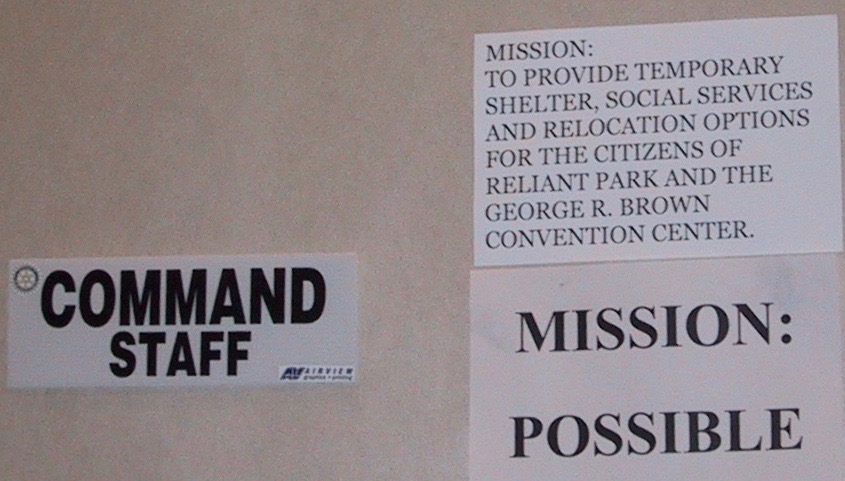 I started the day escorting the Coast Guard Officer who was in charge of logistics to the dining hall to coordinate the donation of a complete meal service for the 5,000 residents from Major League Baseball, but on the way we were intercepted by a Red Cross official who needed his approval for transporting a child.
It seems the Red Cross had just located the parents of a 4-year old who had been at the Reliant Center for a week, and they needed authorization for a sheriff's deputy to fly him to Oklahoma to reunite with them. The paperwork involved and the care paid was overwhelming, and seeing these efforts in action made me realize how impressive this whole operation was. The unbelievable number of children separated from parents is probably what hit me the hardest.
When I returned to IC, two volunteers had just gotten back from the day care center at the opposite end of the complex, about 500 yards away, and were reporting that they wanted more toys. Since everything in IC was based on written requests, we knew this meant the day care center had to fill out a certain form which they probably did not have.
Wanting to get out in the daylight, I walked the form over to them and brought it back to IC to process. Somehow this made me the person in charge of this request. No one was sure how to process a request for toys (as opposed to a request for paper clips or index cards), so we went through several levels of administration before I was cleared to enter the donation center and just pick out the requested items.
The donation center was something to behold. St Luke's United Methodist Church in Houston had a whole team of volunteers to manage the donation warehouse – an entire floor of the convention center covered with clothes, food, toys, medical supplies, shoes etc.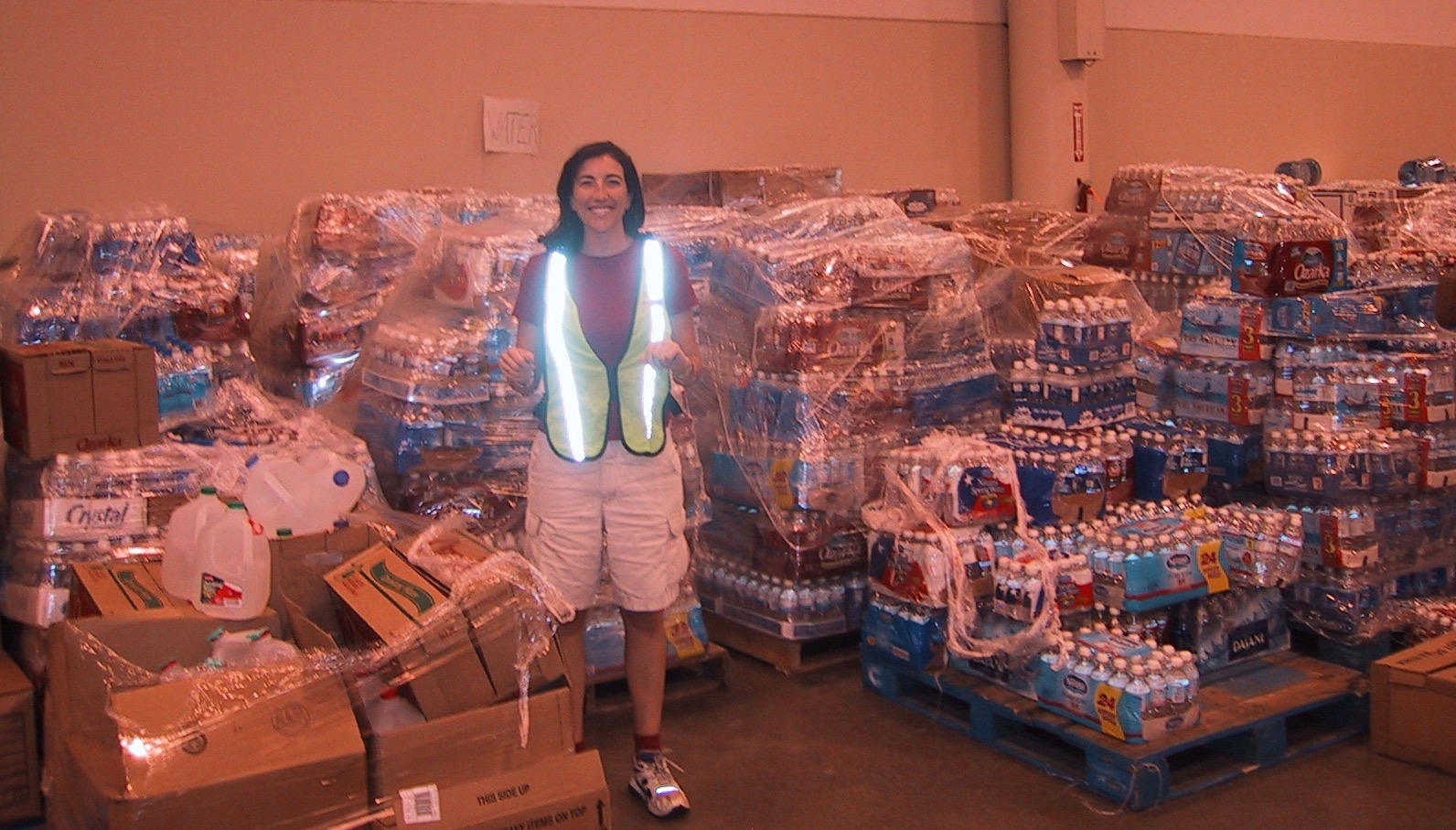 An entire wall of donated water. A 50-foot row of clothes piled two feet high with a small cardboard sign on the end that read: "Girls, size 6." One whole area with hundreds of boxes of donated underwear from Hanes.
And rows and rows of donated food.
Almost completely unusable food.
If an organization says it's best to send money, please please please, send money. While the sheer manpower and space required to sort through the clothes, shoes, toiletries, diapers and other supplies was overwhelming, it was still manageable.
That was not the case for the boxes of food from people who obviously meant well, but simply were not helping when they packed a box with (I'm not making this up): several cans of veggies and soups, one cup-o-noodles with no expiration date, soy sauce, a single package of crackers, a jar of homemade preserves, small wrapped hard candies, several half-full shampoo containers and a bottle of Bloody Mary mix.
It doesn't sound that hard to sort through, but picture a limited amount of warehouse space and over a thousand boxes like this. It looked something like the closing shot of Raiders of the Lost Ark.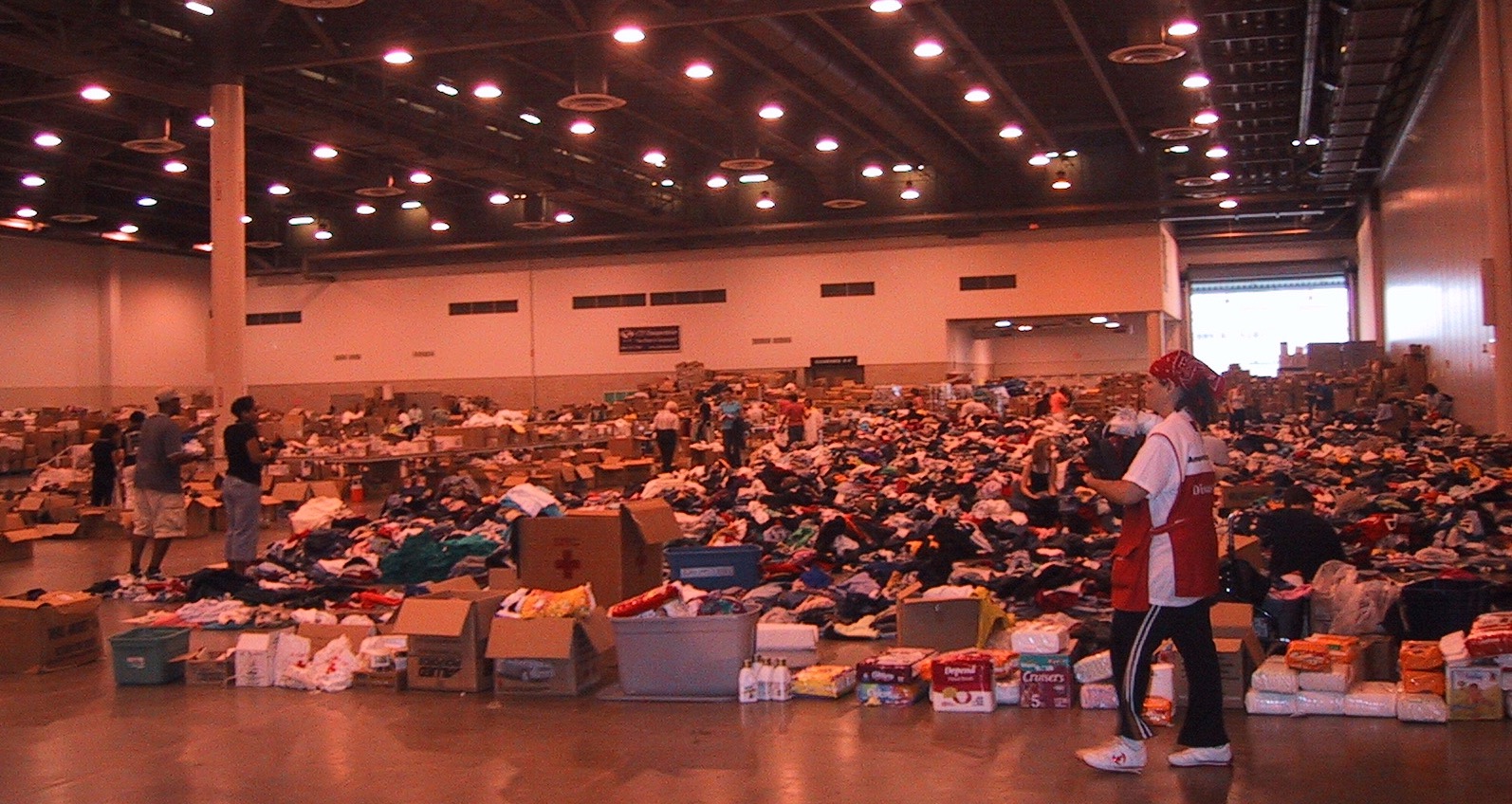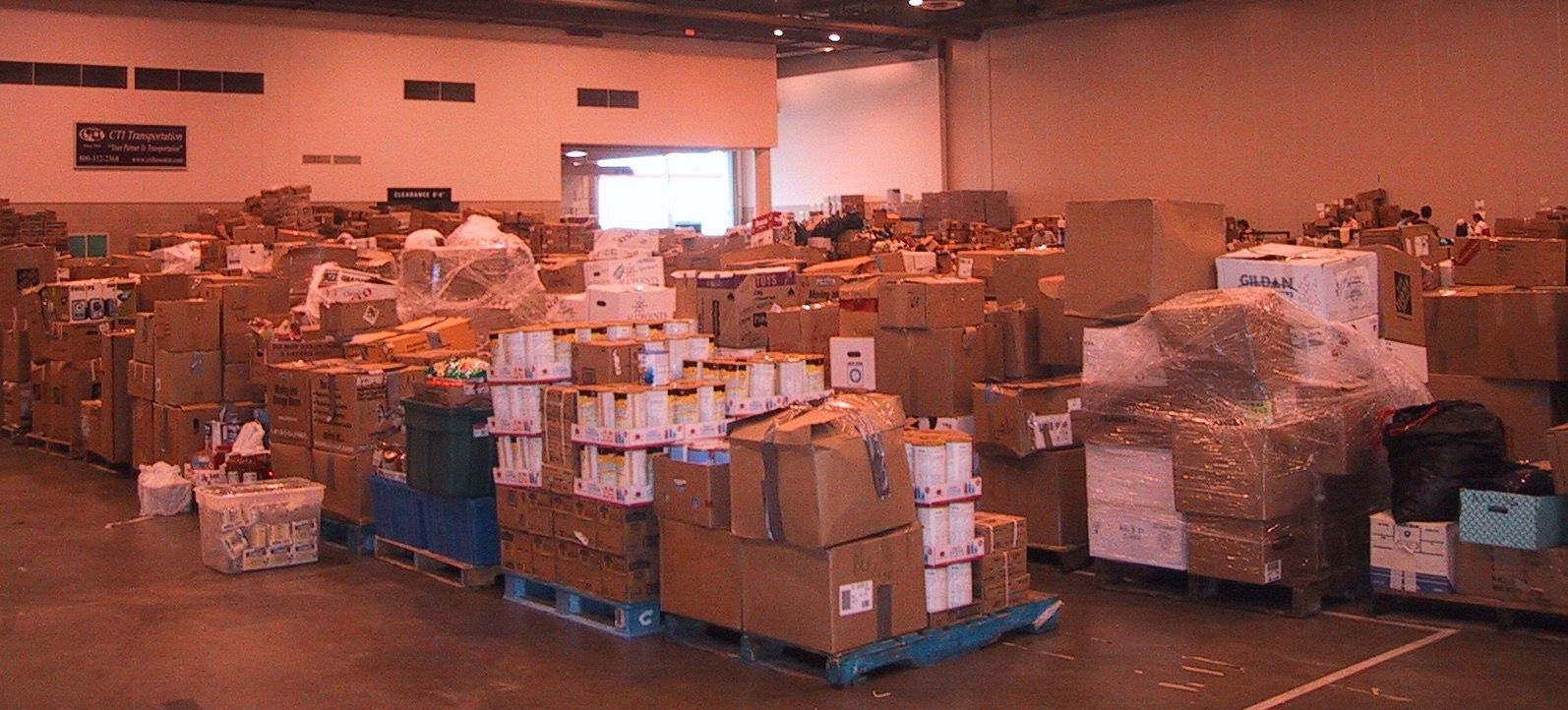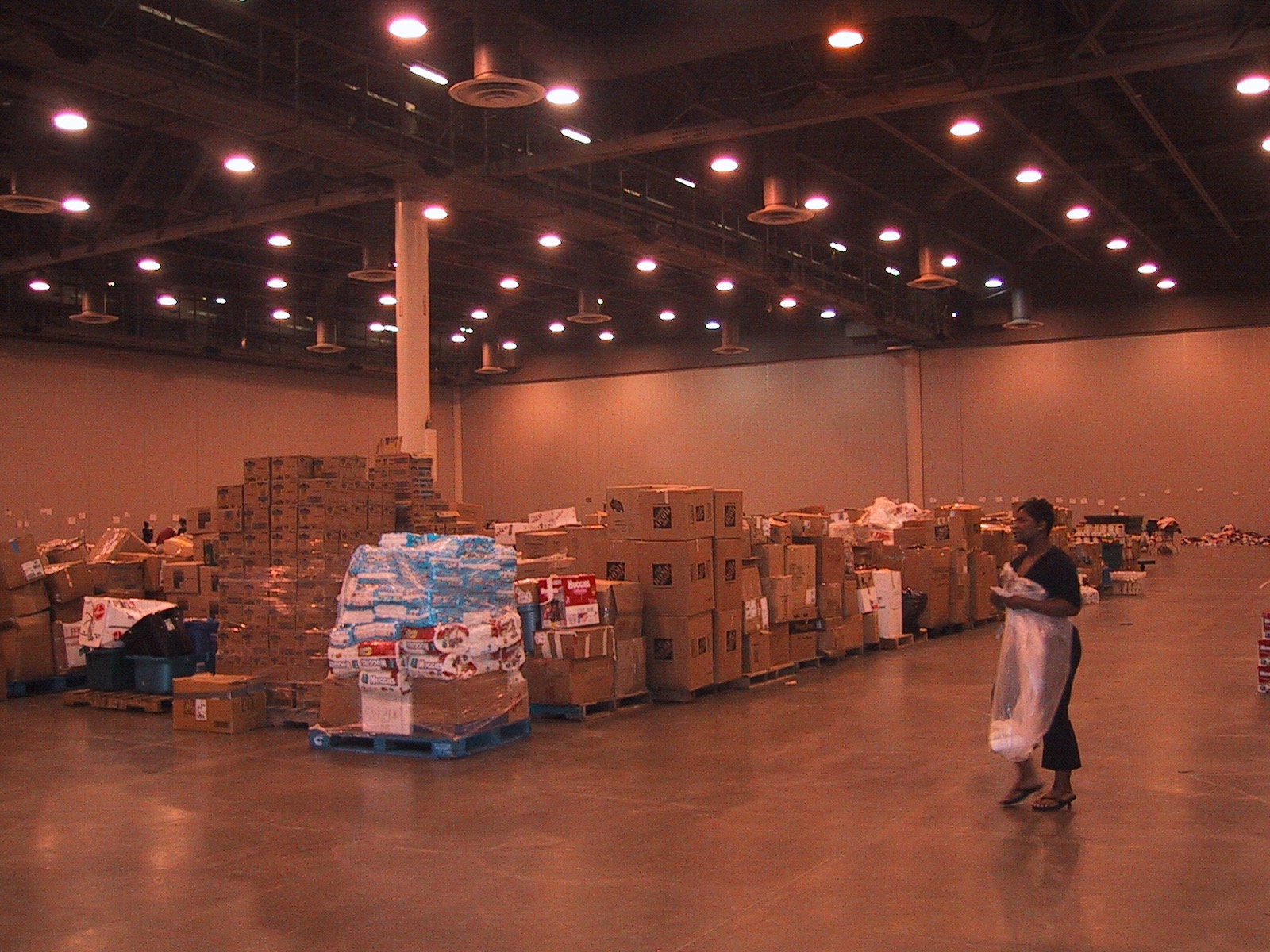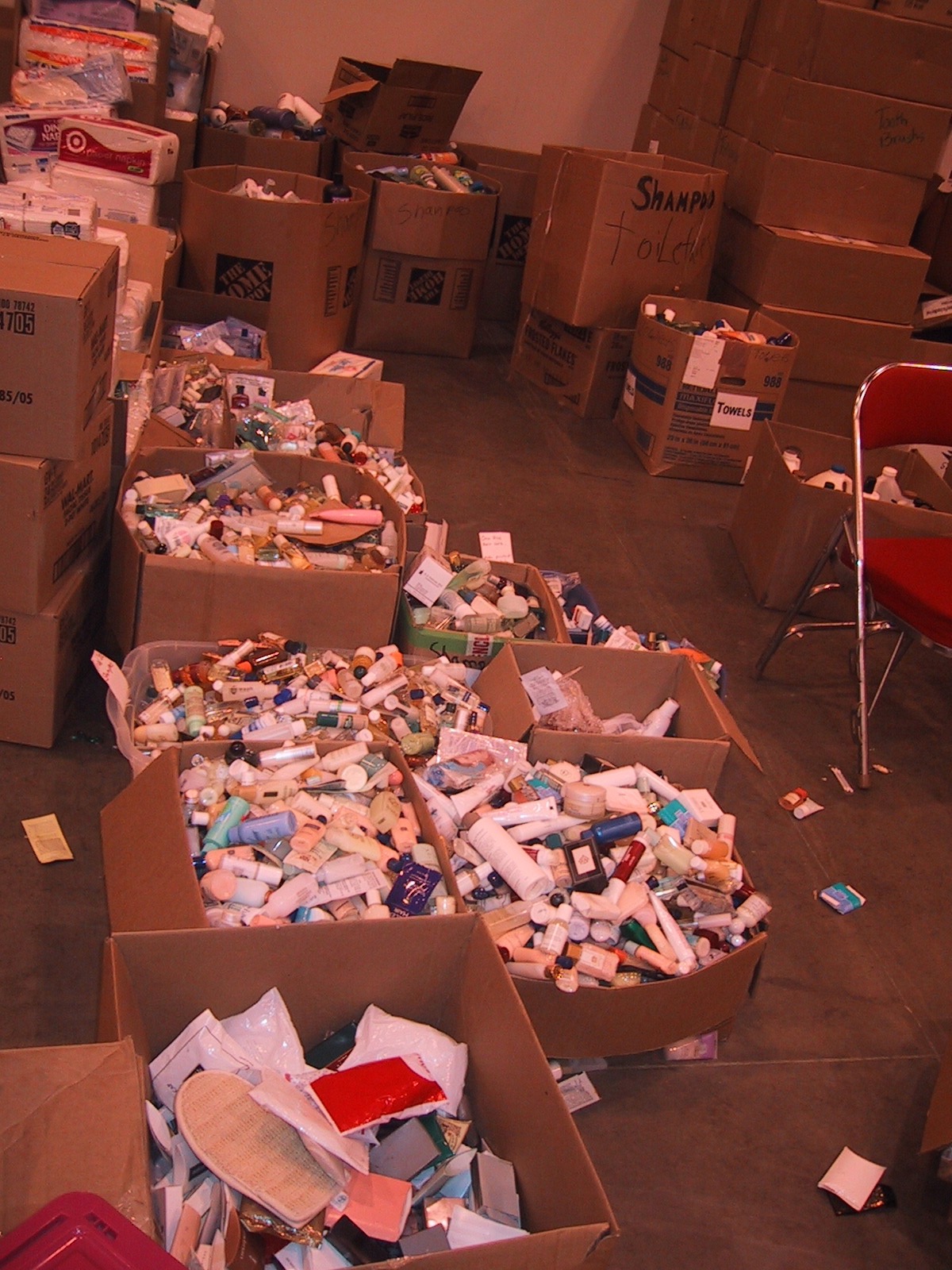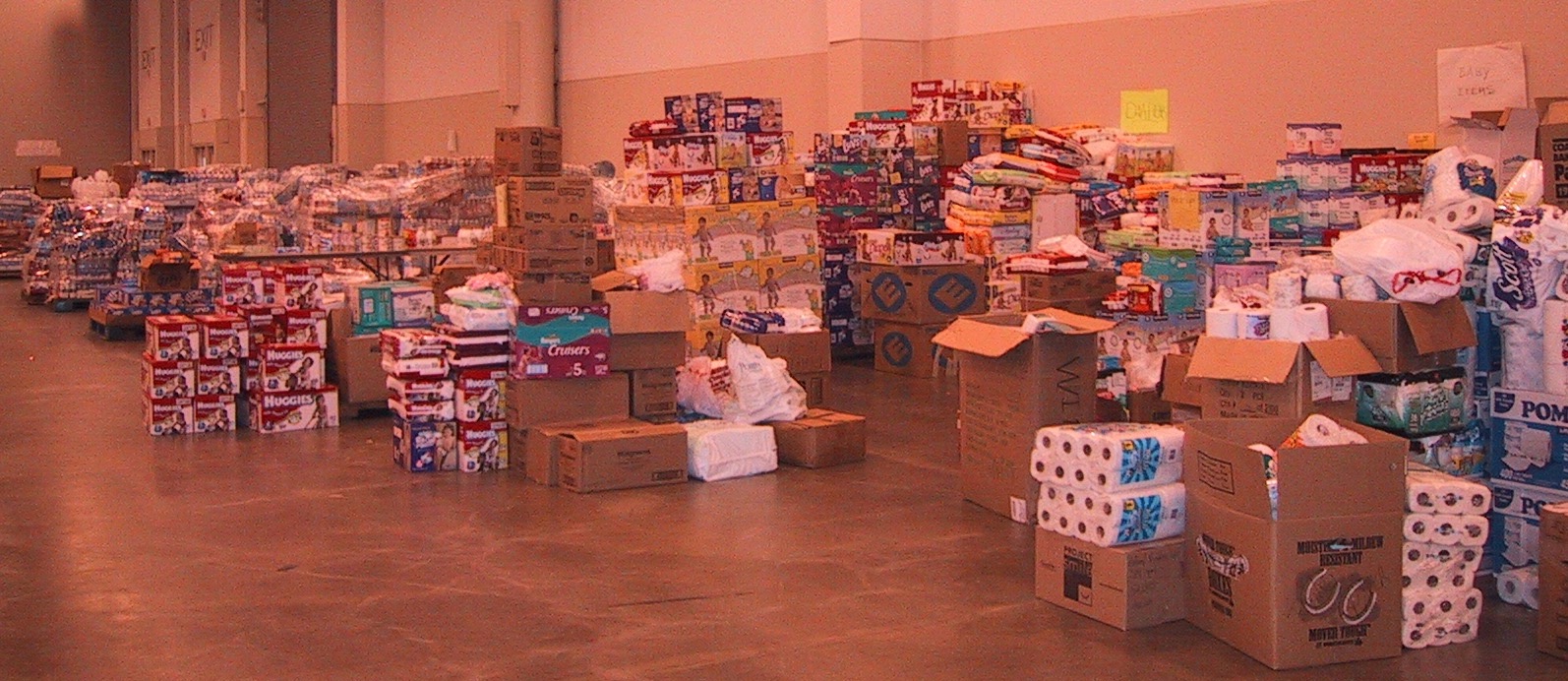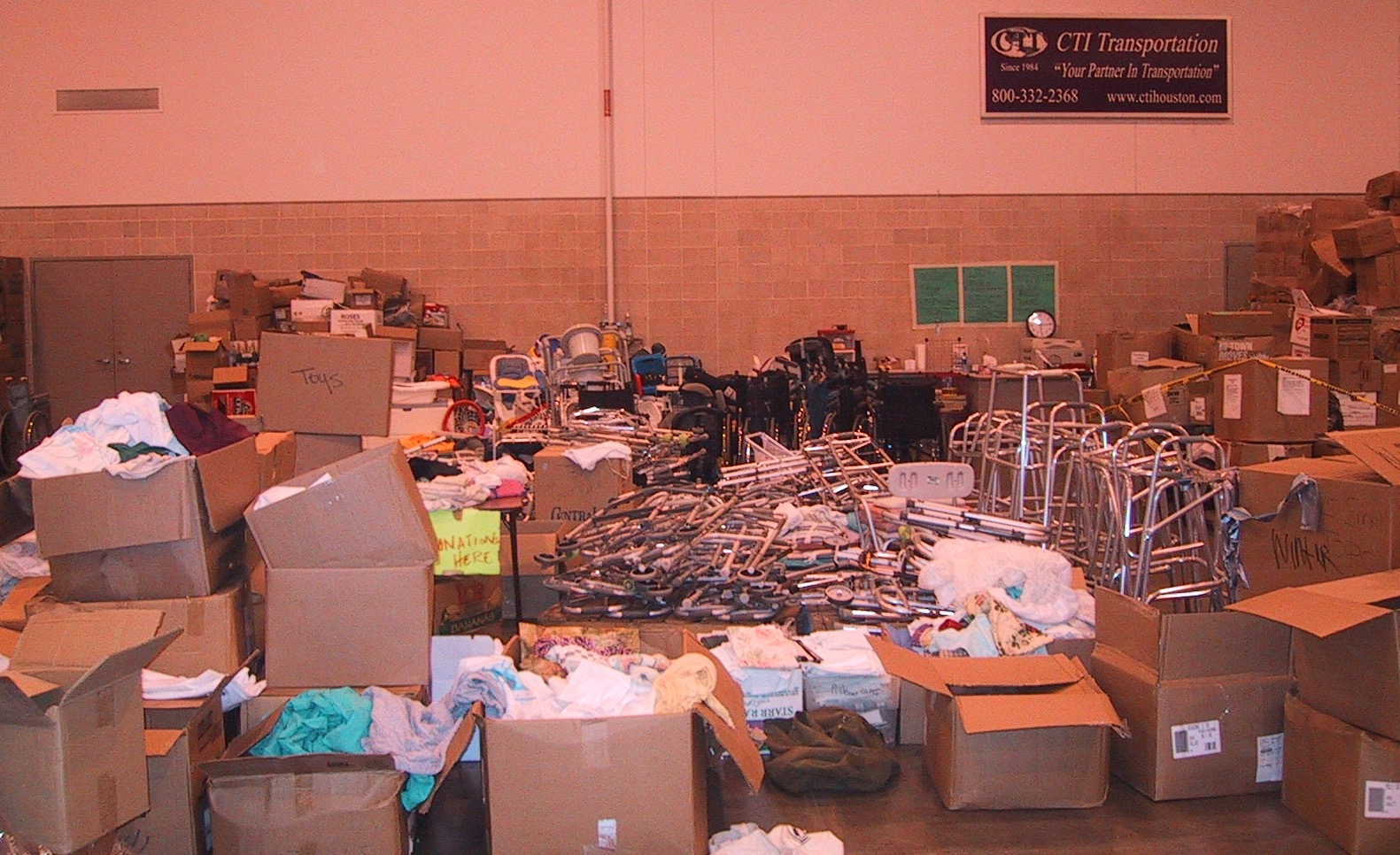 Another sad sight was the abundance of used teddy bears and other plush toys that were on their way to the dump. I love that kids in America saw other children in need and gave their toys in such abundance, but in the absence of a complete medical history of each donating child, there was no way to know which toys would be safe to hand out and which were not. Anything that was possibly used and could contain germs simply had to be disposed.
It was a huge eye opener for me, and I never would have guessed that my own good spirit of giving could be anything less than welcome, but the truth is used plush toys, used underwear (yes, there was quite a bit of that) and small, single amounts of food aren't truly helpful at a mass-evacuation center.
The incredible men and women of St. Luke's did their best to honor all of the generosity received, but the sheer mass of goods to process simply made it unfeasible to distribute it all to where it was needed. If people want to give something like this, they should contact local women's shelters or halfway houses and see if they can use it.
Later that day, I was sent to the Astrodome to coordinate posting information on the jumbotron signs, once meant for scorekeeping and instant replays, then in use to announce buses to Baton Rouge and jobs available in Denver.
The Astrodome was another amazing experience. As I walked down the long, steep ramp once used by the Houston Oilers to enter the arena, I was blown away by the view. While the Reliant Center had almost twice the number of residents as the Astrodome, it looked somewhat like an organized shelter. The Astrodome, on the other hand, looked like a refugee camp. What I found most astounding was that I was looking at it with only 1,200 remaining residents, from a starting point of 11,000.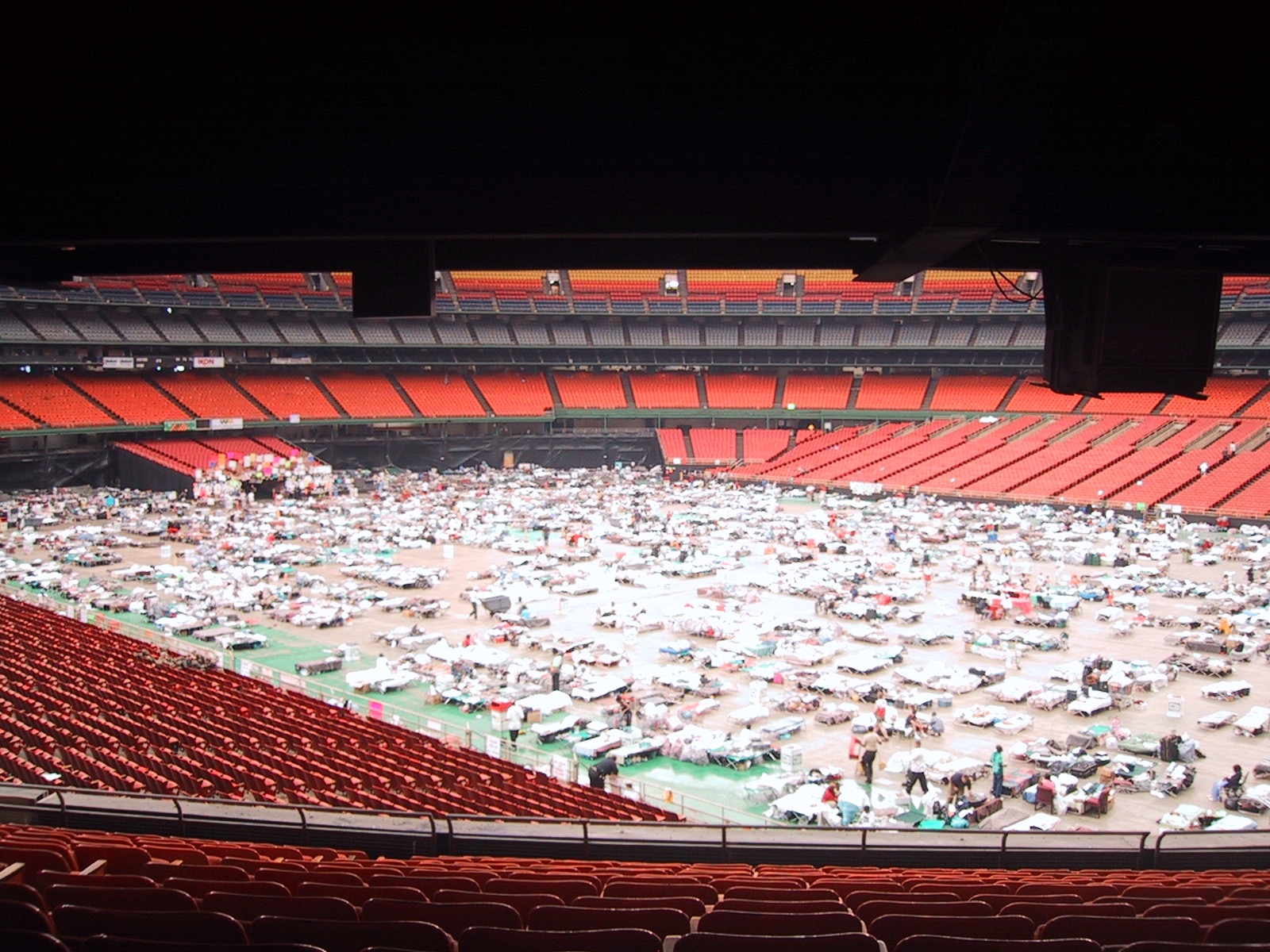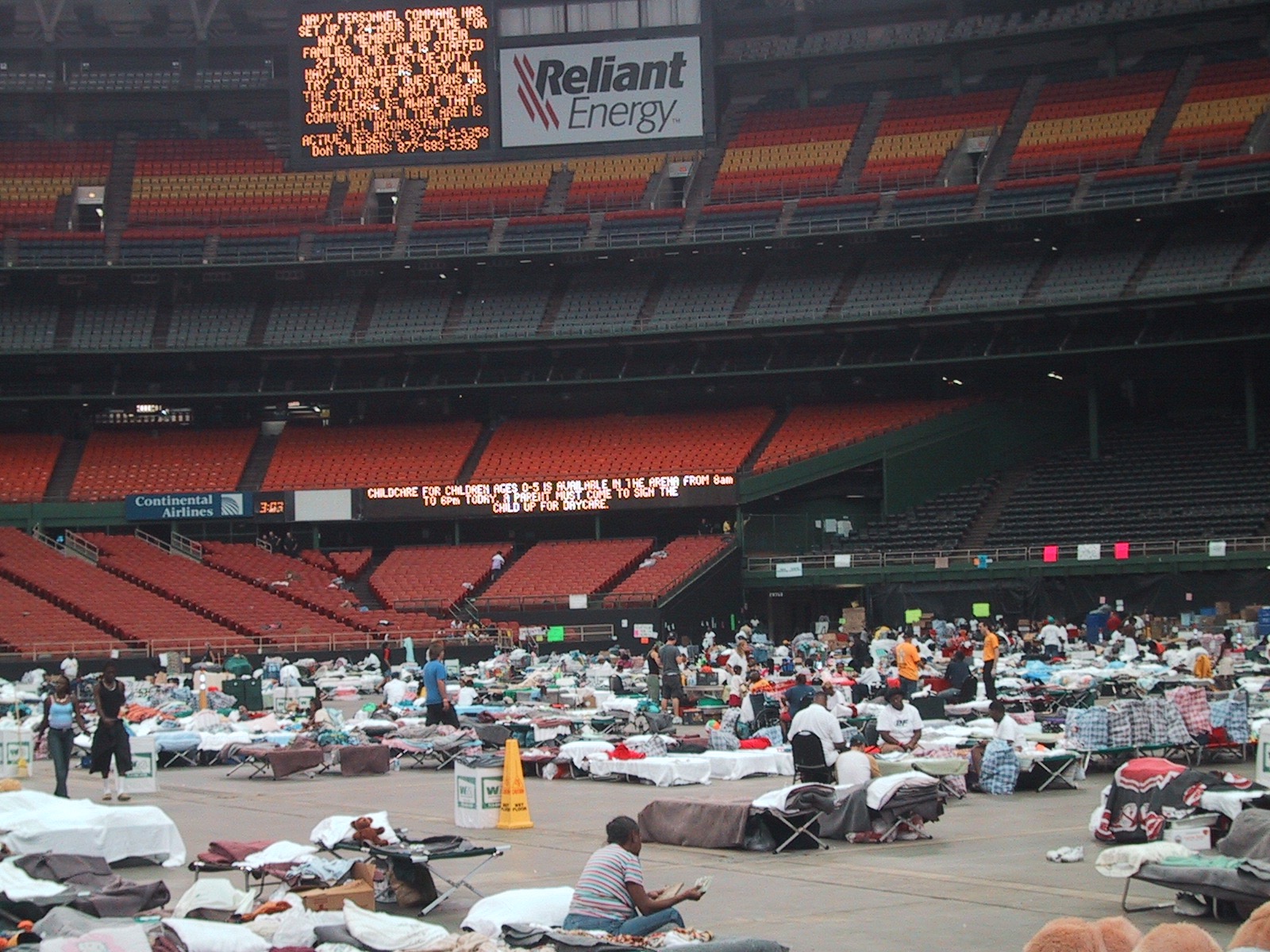 I honestly can't imagine how they functioned with ten times as many people, but somehow they did.
How they opened their hearts and homes and gave their time and resources to those most in need should be an inspiration to municipal governments everywhere. Also, turning this location over to Katrina relief was no small sacrifice for the city. Everything scheduled at Reliant Park between August 29th and September 17th was cancelled. Everything! Think about the lost revenue of that. They didn't re-open for business until the Texans home opener on the 18th. That is such an amazing example of government and corporate generosity, simply to help neighbors in dire need. ALL OF THIS WAS CANCELLED: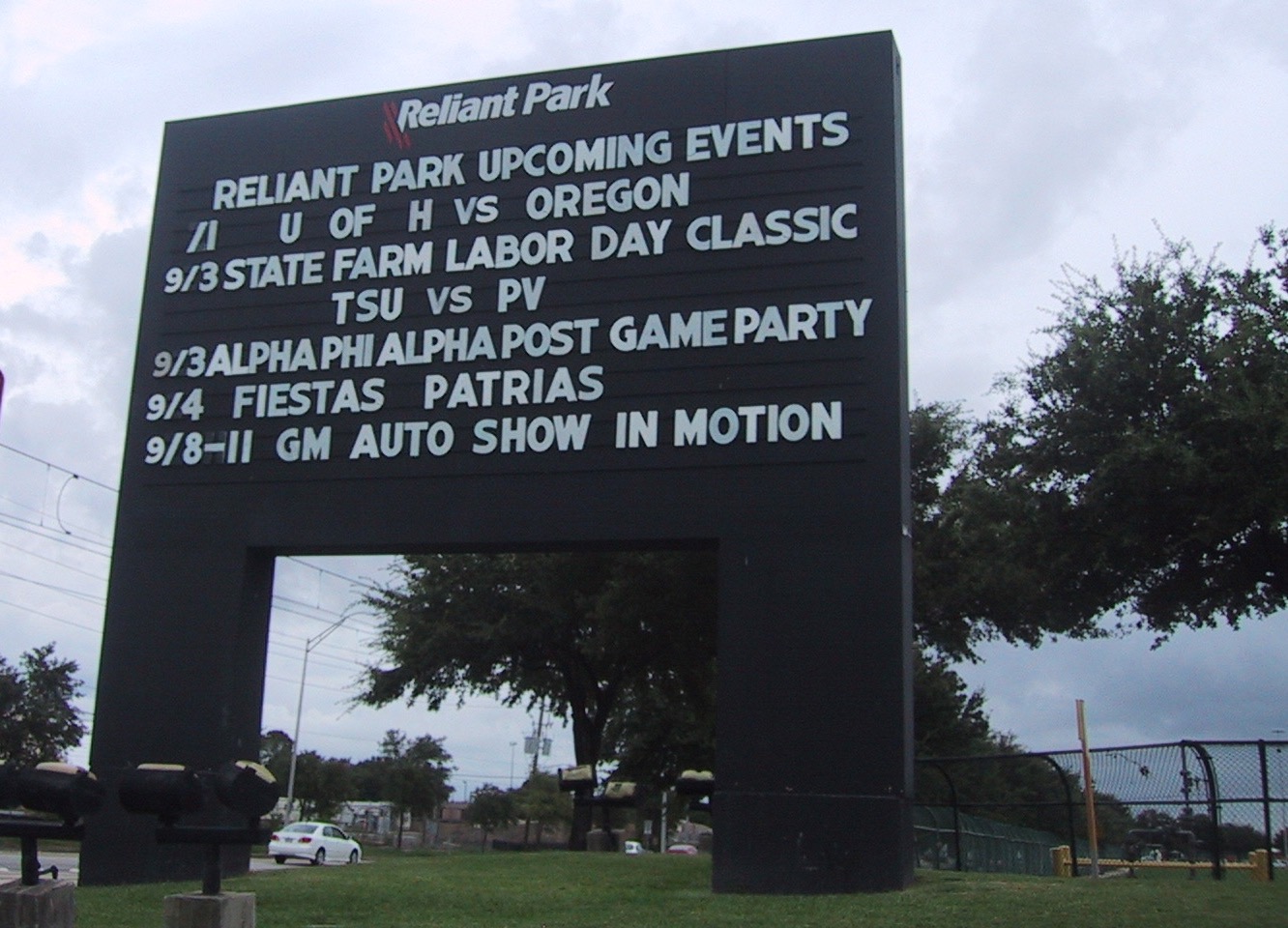 Inside the Astrodome, despite the conditions, life went on. Men watched the Saints game on TV, children had arts and crafts activities, an inoculation center was set up for residents and volunteers, Alcoholics Anonymous, Narcotics Anonymous and Gamblers Anonymous all scheduled meetings, and people tried to make this place a home as best they could. While walking across the floor, I saw one resident sweeping the area around her cots as her children made their "beds" and another woman came over and asked if she could use the broom next.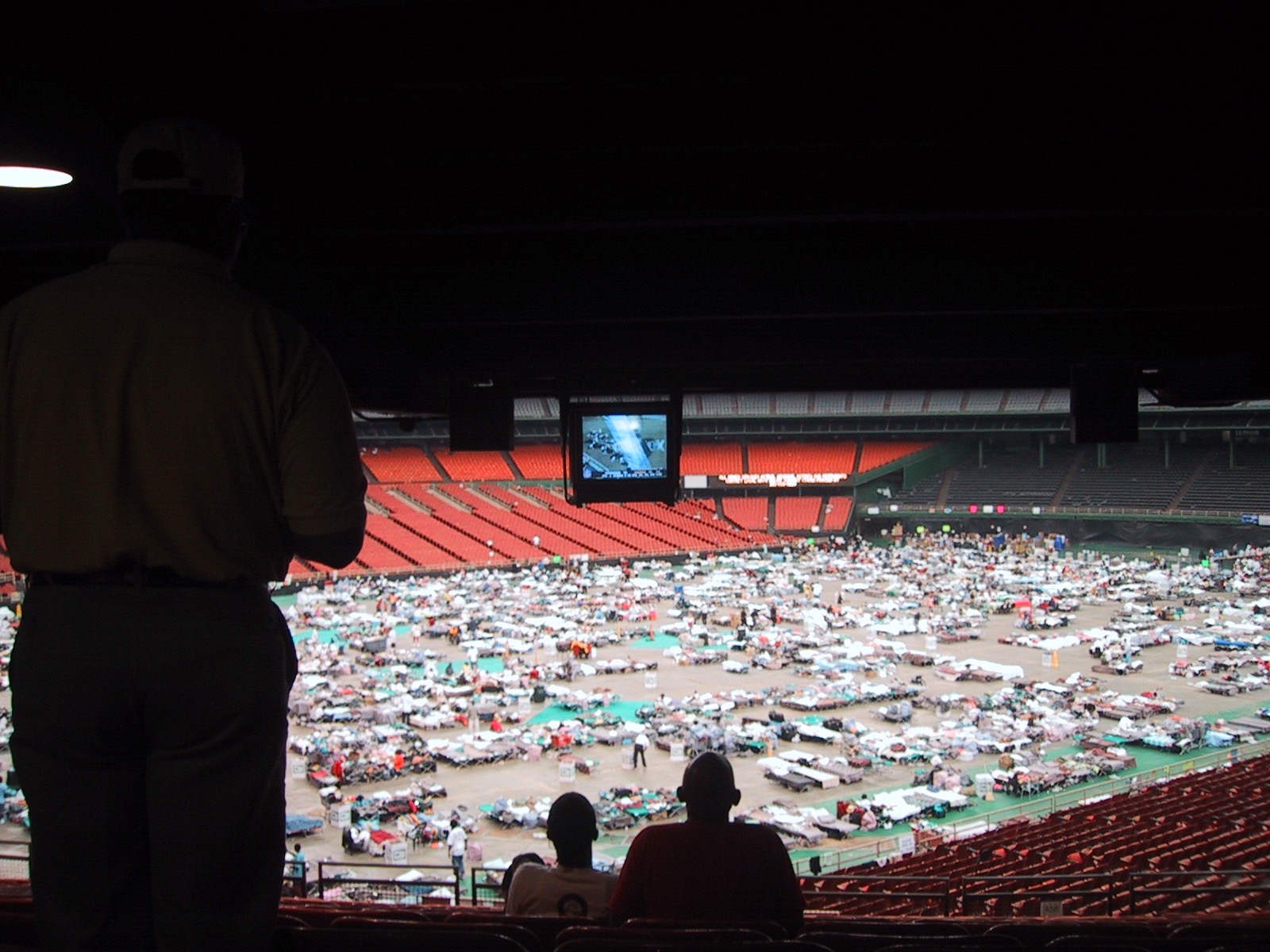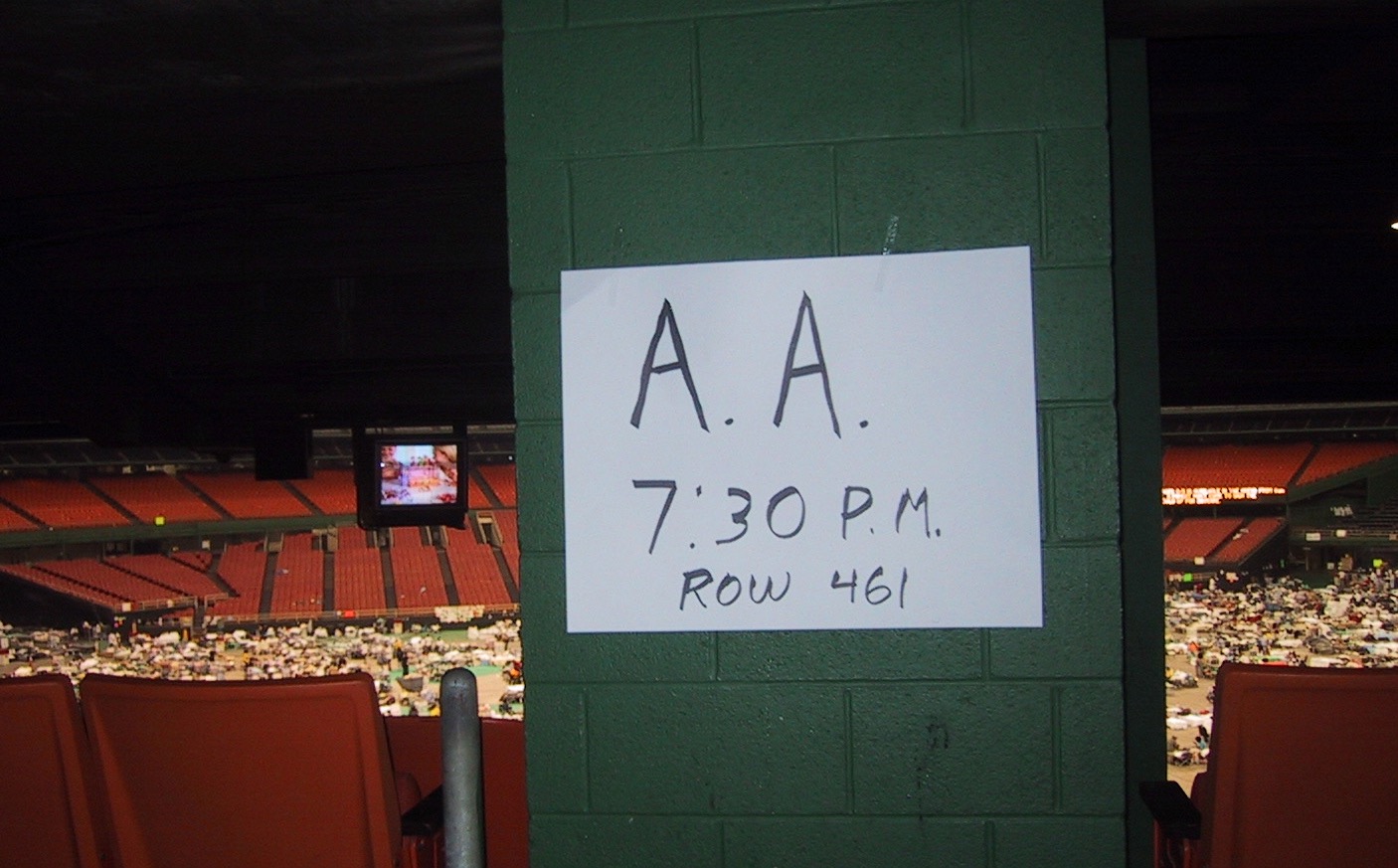 On Monday, I decided to stick with the FEMA team and help with the deployment. I wish I'd spent one more day at Astro City, but it just wasn't feasible. After I left, the place didn't miss me in the least, and it would have run just fine had I not gone, but I do feel like I made a small difference, if nothing else, by seeing all that I saw and sharing it with others.
The two organizations that blew me away while I was there were the National Center for Missing and Exploited Children, the organization shouldering most of the burden of reuniting lost kids with their parents (without one cent of federal assistance) and the Houston Rotarians. I am not sure there is a word for how amazing these people were, all volunteering, all caring, and with nothing but warm gratitude and knowing they were making a difference in return.
And now, Houston needs our help. This city that sacrificed so much on a moment's notice simply because it was needed.
So please, do what you can, give what you can. Let's together show the city of Houston that exactly 12 years to-the-day later, we remember what they did for their neighbors, and now it's their turn.
There is a famous comic book called Astro City whose main hero, coincidentally, is named Samaritan. That's all I saw from one end of the real "Astro City" to the other — samaritans.
God Bless You, Houston.
And God-speed in your recovery!