I have a dear friend who is nursing a broken heart this morning, and my heart breaks for her. Less than two weeks ago, she was planning a wedding, and last weekend was spent watching him pack his things and move out, and now, today is a constant reminder of that loss. The what-could-have-been of it all. My advice — grieve the loss, because your body will force you to anyway, but never forget that this will pass, and when it passes you will return to a life that is filled with joy, if you allow yourself to.
As many readers know, I have never been a a fan of Valentine's Day, despite having written articles suggesting ways to make it a happy day for singles.
But that is changing.
Watching someone in pain over this day has always made me despise it, but now, I see it as just one more day that reminds us to count our blessings.
If you have love in your life, whether that comes from a spouse, a lover, close friends, parents, children, pets, or any other source, take a moment today to list all the beauty and joy that love brings you. Don't exclude the joy you get from the love you put out into the world, even if it's a deep love and fandom for some interest of yours. That can be as much a source of Valentine's happiness as a red box of creamy chocolates wrapped in a velvet ribbon.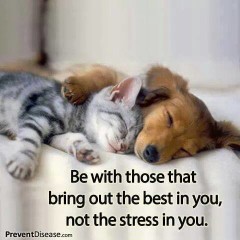 Don't let someone's failure to meet your romantic expectations cause you strife, smile and remind yourself how lucky you are to have this person, and how much love the two of you create in the world, and how silly it is to let a date on the calendar make you see that person as failing in some way. Instead, see yourself as succeeding at love by appreciating who you're with and what you've got.
Learn and love as much as you can as you go through life, and when Hallmark wants you to make one day matter more than others, thank them for that gift. It may be a needed reminder to make this the day you recognize the love in yourself and others, and let that make you very, very happy!