One of the best and truest quotes of all time!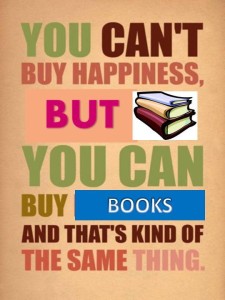 On that note — the Countdown BEGINS!!!
This Tuesday — Tuesday, December 10th — is Read Tuesday!!  The event indie authors have been waiting for for months.  Our own Black Friday sales event.  The brainchild of the awesome and inimitable Chris McMullen. Check out the catalog of books at ReadTuesday.com.
As a participating book, the Kindle edition of Happiness as a Second Language will be on sale for $1.99 on Read Tuesday, $2.99 on Wednesday, $3.99 on Thursday and returning to its regular price of $4.99 on Friday.  If you want to give this book as a gift to anyone on your list, or get a copy for yourself, this is the week!
Gifting an ebook is easy, you just need the recipient's email address. Kindle readers are available for free for just about every tablet, smart phone and computer, so this makes a great gift.
Thanks so much for supporting this amazing event.  I hope your shopping carts are as full as your hearts.
Happy holidays!