Big News!
Happiness as a Second Language is now available as an audiobook at Audible.com, and will be on Amazon and iTunes soon.
I will be doing a major promotion of the audiobook, including two great opportunities for you — the SpeakHappiness blog readers.
FREE AUDIOBOOKS!
I would like to get early reviews of the audiobook, asap.  I have codes for TEN free downloads from Audible.com, so if you can commit to listen to the entire book (it's three hours and eight minutes) and write a review on both Audible.com and Amazon BEFORE OCTOBER 15TH, please reply in the comment section AND email me at Valerie@SpeakHappiness.com and  I will send you instructions to download the advanced review copy.  The first ten readers to reply below and agree to listen and write a review in the next ten days will get the codes.  (Sorry, but very close friends and family members are excluded, just to make sure the reviews are unassailable.)
Here's the audiobook cover: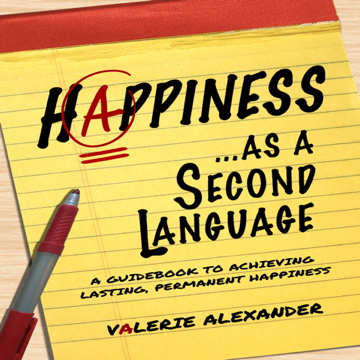 CRAZY CHEAP EBOOKS!
To promote the audiobook, I am going to reduce the price of the ebook to $0.99 from October 15-31.  These will be the only dates to get it at this price, and it will not be this low again, so if you are thinking of getting another copy, giving several as gifts (yes, you can gift ebooks), or telling all of your friends to buy it, mark these dates on your calendar.  
MORE TO COME!
Watch this space, because tomorrow there will be one more big announcement about an upcoming Speak Happiness workshop in LA that is FREE!
Have a Happy Day!