If my dog walks into a room, and something feels off, she just turns and walks out. She doesn't worry about whose feelings she might hurt, or what anyone will say about her after she goes, she just gets the hell out of there.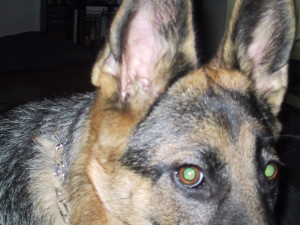 Man is the only animal who ignores his own instincts. Why do we do that? How many times in life do we find ourselves up a creek in a situation that we knew felt wrong when we got into it?
A huge element of Happiness is learning to listen to yourself. As humans, we've been evolving for millions of years, and not just our physical form, but our brain power, too. If something feels wrong, chances are it is wrong and your brain knows it, so stop plunging ahead, forcing yourself to finish something just because you started it, or because someone else expects it of you, or because you keep telling yourself it's the right thing to do. Honor your instinct.
This past week, I was saved from myself once again by the blog team at the Huffington Post. In the time I've been a blogger on the site, only twice have my articles been rejected and both times – both times! — I sighed a big, "whew!" when I got the note.
I don't know how they knew it, but in reviewing the submissions, the editors must have sensed what I knew the whole time I was writing them – this is not really on message for me. This is not what I want to be putting out into the world as part of my own personal brand of happiness.
The most recent rejection happened on Wednesday, and it was of an article about parenting that included a specific scene I witnessed between a friend and his son. I've shared the post with half a dozen friends who all agree that it's well written and my points are valid, but the bottom line is it might really hurt this person's feelings to see me using his very real parenting moment as an example of how not to talk to your kids, and I don't want to do that. I don't want to send that kind of negativity out there, and the HuffPost team was right to say no, for whatever reason (I do wish they would explain the reason, however, as that is a bit maddening). I just find it hard to believe that I hit the Submit button when I already felt so wrong about it in the first place.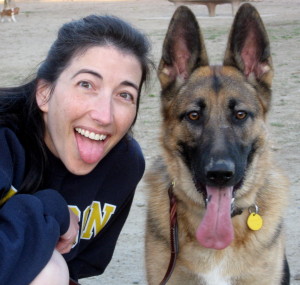 I'm grateful that the Universe finds ways to protect me from myself, but I can't always rely on that, so this is a big learning moment for me (and I hope others as well). We know in our hearts what is good for us, and in our heads, and in our guts. We just have to overcome the noise that interferes with our ability to act on instinct. From now on, if it feels wrong, I'm going to behave like a German Shepherd and walk away. After all, I know of few creatures in the world as happy as my dog, and maybe, just maybe, trusting her gut is the reason.