Wednesday afternoon, the last panel of the day on the "women's track" at Digital Hollywood was The Woman Entrepreneur: The Person, The Opportunity and the Challenge.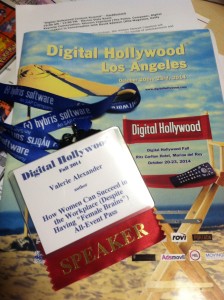 Have any idea what that might be about?
Yeah, me either. And I was on it.
In fact, the moderator met with us in the Speaker Lounge before our event and we talked about not having any idea what we were supposed to present under this heading.
So we winged it.
And somehow…magic happened.
The response was amazing. In a small ballroom that was full to begin with, people started coming into the room during the session (a rarity at DH, where panels that start full often shed attendees like fur). At the cocktail party that immediately followed, all of us were told repeatedly that it was one of the best panels people had been to. One wonderful man raised his hand during the session and said, "I have been a journalist for many years and I am never going to forget this talk."
We just put it all out there — about being a woman, being an entrepreneur, being a human being and all the challenges those raised for us. I guess we sort of figured out what the panel was about after all.
Watch for six excerpts from this talk in the posts from 11/20 through 12/2. Enjoy!
And don't forget to pre-order your copy of How Women Can Succeed in the Workplace (Despite Having "Female Brains") — order now and it will magically arrive on Monday!