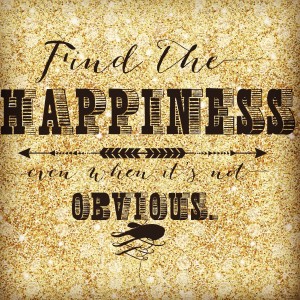 Continuing with the theme of really learning to speak Happiness fluently this year, stop right now and look around your world.  Think of ten things that are making you happy in this moment.
Find the happiness even when it's not obvious.  If you have to stretch to get to ten — good!  It's an exercise and sometimes that requires moving beyond our pre-conceived limits.
Be very specific when making your list.  Do not write, "My kids make me happy."
What, specifically, about your kids is making you happy right now (and if there's nothing because they're being little monsters, don't include it!)  This also gives you the freedom to include — and acknowledge — everything about them that makes you happy.  It can be:
"I'm happy the boys are still asleep so I have some quiet time to myself."
"I'm happy that Jeannie's gymnastics class got snowed out today, so I don't have to drive in this weather."
"I'm happy that the kids are fine with peanut butter and jelly sandwiches for lunch."
"I'm happy to hear the girls singing in the bathroom.  I love it when they do that!"
There are so many things in your life to be happy about right now.  Try to have at least two or three on your list that aren't obvious, and spend a moment reflecting on them.  How often do you just forget those things and go on with your grouchy day?
Now is the time to see your life for what it is — happy!  If you spot it, you got it!
For a guidebook in achieving lasting, permanent happiness, check out "Happiness as a Second Language," a Happiness Top Seller on Amazon, and for even more happiness, please follow Speak Happiness on Facebook and Twitter.
To read Valerie's Huffington Post Happiness Blog, click here.